Google My Business Setup, Training & Audit
For businesses or entrepreneurs, get a one-hour Google My Business setup, training and audit call
Get help with your Google My Business (GMB) profile via a 60-minute setup, training and audit call with us. Including a free Local SEO audit report. This call is designed to give you one-to-one advice to help you grow your business.

What is Google My Business?
GMB is a free tool that lets you manage how your business appears on Google Search and Google Maps. This includes your business name, location, & hours, services/products, customer reviews, photos, news, offers, COVID-19 information; and learning where & how people are searching for you, & more.
Why optimisation of your GMB profile is important
Local results are based on Relevance, Distance and Prominence; therefore, if you want customers to find you, then you need to optimise your Google My Business listing to meet the needs of search intent and demonstrate to Google that you are you say you are and offer great services/products.
What to expect in our 1-hour call?
Our phone or video call could involve anything from advice on claiming your GMB or looking at new ways to optimise it with keywords, video and images. The booked one hour is your agenda. You will have one-to-one access to our expertise. We can also review your free local SEO audit report and provide advice to help improve your local search results.
Reap the benefits of a Google My Business setup and ongoing services
Let us take care of all your Google My Business setup and ongoing management with our Google My Business services for businesses. We've invested in the latest GMB services, including training, management tools and reporting, to give clients the best opportunity when it comes to gaining local customers across Google Search and Maps.
Tracking and Reporting
Our tools can view six times more than Google My Business Insights data, and our report displays 18 months of GMB Insights data. Track keywords, competitors, and get regular updated reports.
Optimisation and Advanced Local SEO
We help fully optimise your profile, and provide advanced Local SEO services including Back Links, GEO Networks, On-Page SEO, and much more.
Reputation Management
Gain more online reviews on Google, Facebook or a site like Yell, Yelp, or specific trade sites than before. We'll help keep track & monitor your online reputation and alert you to new reviews so you can swiftly respond and manage them correctly.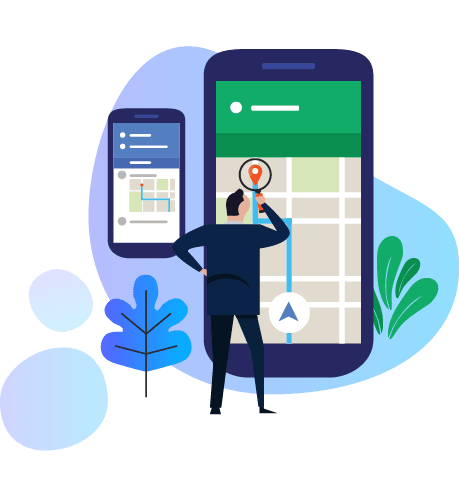 How does Google determine local ranking?
Local search results are based primarily on Relevance, Distance and Prominence. These 3 factors are combined to help Google find the best match for people's search results. For example, Google algorithms might decide your florist business is further away from the person's location. Still, it's more likely to have what the person was looking for, which was "wedding flowers" than a closer business which didn't mention anything about flowers for weddings on their GMB profile, and therefore rank you higher in that local result.
Relevance
Relevance refers to how well a local business listing matches what someone is searching for. Ensuring your business information is updated, accurate and complete can help Google understand your small business better and match your GMB listing to relevant searches.
Distance
How far is each potential search result from the location, term or device used in a search? Suppose a person hasn't specified a location in their search, for example, "the best coffee shop near me". In that case, Google will calculate distance from what's known about its location, like its GPS. Google Maps results are often used and will display different businesses on a map around the user's location or their search term, such as "best coffee shop in Leicester".
Prominence
Prominence refers to how well-known a business is. Some places are more prominent in the offline world, and search results will try and reflect this in the local Google ranking. For example, famous, landmark hotels, museums, or well-known shop brands that are familiar to many people are likely to be more prominent in local search results. This is great for the user but means small business needs to have their profiles fully optimised to help their rankings against more established companies.
Improve your local ranking on Google
Local results appear for people who search for products or services, businesses and places near their location. They're shown in several places across Maps and Search. For example, you'll discover local results if you search for a "Thai restaurant" from your mobile device. Google will try to show you the nearby Thai restaurants that you'd most like to visit.
As a small business, you can improve your local ranking by using Google My Business to claim and update your business information.
New or still not sure where to start?
If you don't already have a Google My Business listing setup for your business, no Google My Business account, not verify your listing, not optimise your GMB listing, don't have a Google account or are simply not sure where to start, we can help with our Google My Business Setup, Training and Audit call. The Google My Business setup cost is £60 for a one-on-one chat with one of our experts. We are Google My Business specialists here to help and make sure you are getting the most out of your Google My Business listings.