PPC Leicester Management Services for Small Businesses
PPC Leicester management services designed to fit your small business needs
We are a team of digital marketing experts based near Leicester. We understand the struggles of small businesses, and we want to help you grow. If you're in an industry where you're fighting for customers, your web ranking is poor, or your ads have no effect, it's important to call us now. Our PPC Leicester management services solve these issues.

Customised winning PPC strategies

Improve the CTR, CPA & Conversion Rate with ads that work

Gain fast results with measurable results & ROI

Let someone else, like us, do all the PPC, Ad & lead campaign work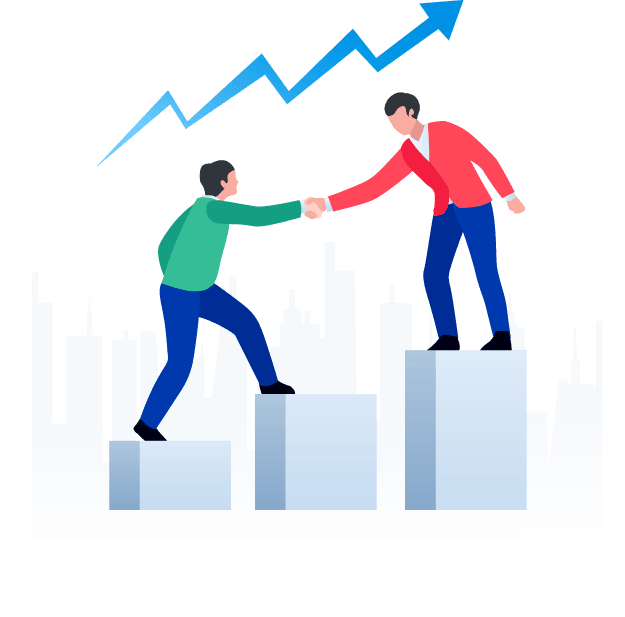 Your sales are dead without any leads or converting prospects.
Pay-per-click is an effective online advertising model used to drive traffic to web pages. One of the most popular forms of PPC advertising is search engine advertising.
Marketing has evolved over the years. And now, gaining enquiries and customers online is expected. If your website does not convert, or if it's not appealing to customers, or if your competitors always outrank you, then it's time to try paid search engine advertisement. This powerful online marketing strategy can quickly give your small business the competitive edge it needs.
Our PPC management services for small Leicester businesses
You have a business, but how do you get found? Use our PPC marketing services to make yourself more visible to customers and improve your search ranking. This will generate more calls, enquiries, and sales! Here's what we do:

PPC & Google Ads Account Audits
Before we launch any new campaigns, we need to understand where you want to be and run a performance audit. This is the only way you'll know if your current ads are working or if there's an underlying issue with them. 

Keyword Research & Competitor Ad Analysis
We'll research your ad to see what it works best for, and what opportunities advertisers may be missing. We'll also look at your competitors' search ads as opportunities to exploit. And we'll focus on finding new keywords for an ad strategy.

Ad Strategy, Campaign Planning, Reporting & Setup
Whether you've already tried with a paid search or if you're new to PPC, your account manager can make planning and budgeting easier. We will develop a long-term campaign via proven methods of success. You'll see improvements through intricate remarketing strategies, website content, and landing pages, plus setup and data-driven reports.

PPC is hard. Managing PPC is harder. Outsourcing your Google Ads account to a reputable provider like our PPC agency Leicester can save you time, energy, and money. We can do all the groundwork to build your Google Ads account for you. You focus on taking care of your Leicester business — we'll take care of the rest!

As the world's most popular social media site, Facebook is overwhelming for businesses of any size to use effectively. It is important to consider each ad campaign's goals. Whatever the goal, we have a Facebook advertising package that will fit your needs.

We focus on getting results for clients by doing A/B testing, creating high-quality ad copy, landing pages specifically designed for each client's advertising campaigns, sales and marketing funnels, and client relationship management.
Have you neglected your Pay-Per-Click (PPC) account? Get in touch with our Leicester marketing agency about how we can help manage your PPC budget.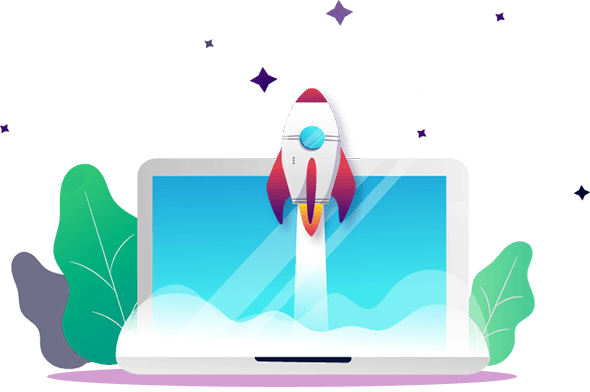 Benefits of PPC for small businesses
Pay-per-click campaigns are a quick and inexpensive way to advertise your products and services while targeting your potential customers. Pay-per-click ads on Google, Bing, Facebook, Instagram, LinkedIn, etc., can be profitably run to generate a measurable return on investment. These ads are especially effective in reaching your target audience at the right time and location. PPC companies are currently generating millions of eyeballs every month for small scale businesses all over the Internet.
Small businesses average about 1% of their revenues for advertising expenses
85% of consumers use the internet to search for local businesses​
Paid advertising returns £1.59 ($2) for every £0.79 ($1) spent – a 200% ROI rate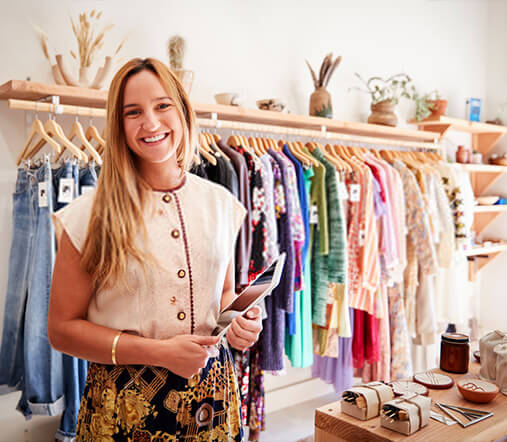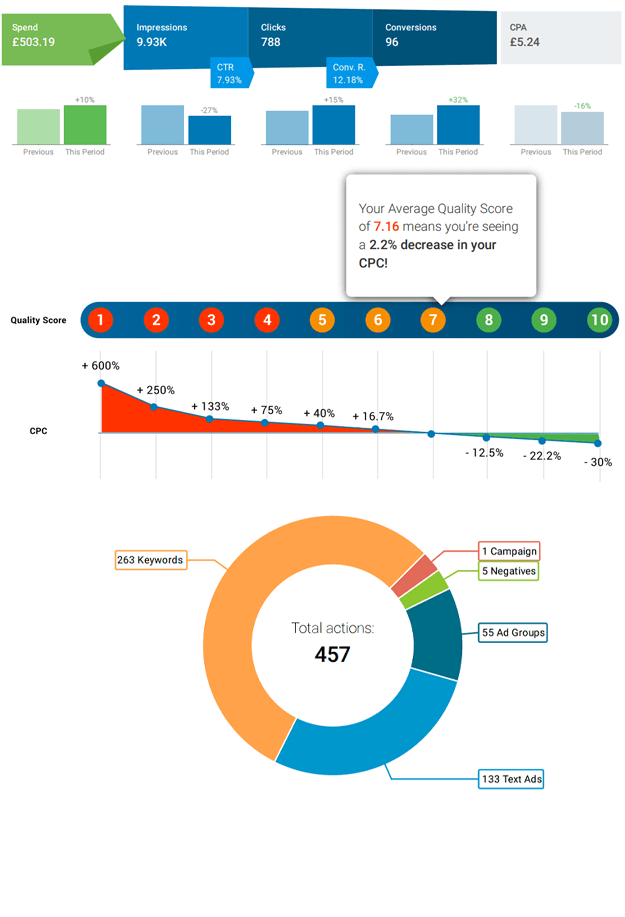 An amazing CTR of 11.3% was achieved for one local small business. This level of success is only achieved by 10% of advertisers.
According to WordStream, the average Click Through Rate (CTR) across all industries in Google Ads is 1.91%
Our small marketing team generated 562 leads for a local business in 5 months, for about £0.56 per click (on average), with an average CTR of 11.3%, and a 10% conversion rate on landing pages. This new start-up was booming in the target market and our ads dominated. None of the competitors could get close. Our client's closing rate was 10%, which is much higher than the industry average.
Our PPC strategy included keyword research, client focus, and detailed ad management. Get started with Dynamics Tech.
Below are some of the most frequently asked questions about Pay-Per-Click advertising for Leicester small businesses.
Pay Per Click (PPC) is an online marketing technique that draws visitors to your site through online advertisements.
There are many different types of online PPC ads, including display advertising, paid search, remarketing, video ads, mobile advertising, native advertising, social media ads, email marketing, and audio ads.
PPC is an essential part of your marketing mix and is one of the best ways to expand your reach and quickly find new customers.
Contact us to get started.
PPC campaigns are not as simple as setting up a few text ads.
A successful PPC campaign requires detailed research, targeting, testing and continuous optimisation to achieve positive results that drive business growth.
A PPC digital marketing agency's job is to achieve your advertising goals and generate an ROI for the client, so you pay for PPC services.
If you don't have the necessary training, experience, available time resources and largely expensive 3rd party solutions, the cost of PPC ads can quickly run away from you and squander your budget.
Here at Dynamics Tech, you will be working with a dedicated Leicester-based account manager who will oversee your ad campaigns and follow pay-per-click best practices to ensure our PPC strategy supports your ad spend.
To learn more about our PPC advertising and PPC services, contact us to speak to our Leicester sales representative or our Leicester PPC account manager.
No matter your budget, we can offer you our expertise and campaign management. We'd recommend at least £300 per month. Most clients spend £600+ a month. Our PPC ad management fees are 15%-20% of the budget. Additionally, there are fees for campaign setup.
Our team has over five years of experience dealing with pay per click advertising and landing pages. We offer a lot of flexibility in service.
Generally speaking, the bigger the budget, the more that can be done. The benefits of advertising with Google and Facebook are immediate and measurable. Getting started with a small budget is possible, and even encouraged. In the early days, focusing on the speed of return on ad spend is key. Keeping this in mind, you should add 40%-90% of your profit from sales back into ad spend over the course of the first three to six months as you see sales continue to grow.
The UK average cost-per-click of Google Ads (formally Google AdWords), on the Search Network, is between £0.66 and £1.32. The average cost per click on Bing Ads across all industries is £1.12. Bing Ads is known to be lower in cost than Google Ads, but you will get fewer clicks as Google does have more visitors.
Rather than focusing on how much you think PPC should cost, focus on the level of experience and quality of a UK PPC agency you work with. There you get the best price-performance ratio. Be careful when you choose the cheapest UK PPC agency has to offer! Many PPC management agencies focus on being cheap, which often means they rely on set-and-forget campaigns that don't get the best results for their marketing spend for the client. That's not us. Our focus is on honest, direct PPC campaigns that get the best out of every pound and help your small company grow.
Get started. Call us today. 
Please contact us if you have any further questions and we will be more than happy to help.