Virtual Tours Photography for Businesses
Showcase your business with virtual tour photography
360 virtual tours are perfect for organisations who want to showcase their property, enhance their online visibility & increase consumer engagement. Dynamics Tech virtual tour company provides 360 virtual tour photography as a digital marketing service for all business types.

Interactive
360 virtual tours
Let's guide your visitors and show them the very best of what you do, what you look like, and can offer!

360-degree view & walk through of your business
Users can virtually venture inside your business via your website or Google, which has 360 photography virtual tour.
Enhance your local business listing with 360 Virtual Tour Photography & Google Street View
Let your customers discover your business by adding virtual tour photography to your online presence.
360 Photography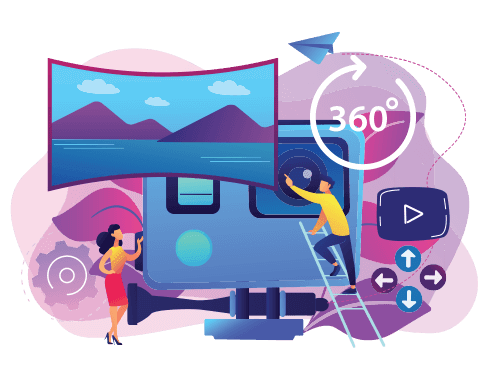 Increase your search visibility
360 virtual tour photography can help you differentiate your business, attract more customers, drive traffic to your website and take advantage over local competitors. According to a Google commissioned survey into internet habits:
Virtual tours help double the interest of business listings. 18-34-year-olds prospects are 130% more likely to book after a virtual tour
Two out of three want more virtual tours of businesses
Viewers, on average, are spending up to 4 times longer viewing a virtual tour over a standard web page. Therefore, they're far more likely to remember your location
Google Street View
GMB optimization
Business impact
360 Virtual business tours that engage your audience
Significantly increase your business's online visibility by providing virtual tours (with virtual reality elements) that are proven to increase footfall, showcase the best of your facilities, raise awareness, and educate visitors.
360 photography is perfect for businesses that have public footfall
360 Virtual business tours are an excellent marketing opportunity for public and private footfall businesses. Like pubs, restaurants & cafes, gyms, fitness & leisure centres, hotels & B&Bs, golf clubs, doctors, dentists, lawyers and other professionals, high street shops, hairdressers, car showrooms etc. 360 Virtual Tour photography increases your footfall, showcases your facilities & premises by letting people see inside, walk around.
Works great for businesses that want to showcase the space and facilities visually and interactively
Businesses like property, cottages and Airbnb lets, estate agents, builders & private & public space and commercial property developers, holiday parks, universities, children's day nurseries, car repair garages, museums & galleries, places of interest, or training companies can all benefit from interactive 360 virtual tour photography. Let customers and clients see inside and walk around with stunning 360 images and virtual tours that look professional.
Our 360 virtual tour cost & packages
Our 360 virtual tours photography service is inexpensive and costs a lot less; than you might have assumed. Tell us a bit more about yourself, or contact us with questions about the 360 photography and virtual tours.
STANDARD SMALL BIZ
360 Virtual Tour with up to 10 images
Includes high quality interactive online tour
HTML code to add the Tour to your website
High-resolution Image photos edited and enhanced
*Tours added to Google Streetview
Tours added to your Google My Business profile
**Tour hosting is £15 per month
Uploaded to Google Street View & GMB is £25
LARGER BUSINESSES/VENUES
360 Virtual Tour with up to 10 images
360 Virtual Tour with up to 10+ 360 images
Bespoke 360-degree tour
*Sometimes, it's not possible to fully upload tours to Street View. **invoiced per month or annually. The transport cost to your business is free within 20 miles of LE679 (in Leicestershire) or free with 10 miles of LA22 (Ambleside), then .55p per mile after that across the UK for potential customers. Our pricing for a high quality full interactive tour is affordable.
Show off your business to the World
With other virtual tour photographers, your tour is created by the photographs as they come out of the camera. Photos must comply with specific Google quality control standards. We enhance your photos and create interactive bespoke 360-degree virtual tours that showcase and grow your business. We give clients a fantastic 360° experience that works on all devices.
Google My Business (GMB) is a free tool that helps business owners manage their online presence. It offers the most significant impact of 360 virtual tours for business owners seeking local exposure. We can help with our Google My Business management services.
360 Virtual tours photography
Showcase your business in the best possible light. Our 360 virtual tours are much higher quality and more engaging than most. We use a high-quality 360-degree camera & advanced editing software tools for post-production and hosting. Once done, use the tour as part of your marketing effort. View our Bradgate Park virtual tour project.
Facebook 360° imagery & VR ready
Facebook's adoption of 360° imagery technology means not only can we embed your tour on your Facebook business page, but we can also provide you with individual 360° images, which you can use in promotional posts. Also, all 360 virtual business tours and bespoke tours are virtual reality (VR) headsets ready.
As a Google Street View trusted pro and Google tour creator, get support across all your business services and gain practical strategies to achieve your sales, marketing & customer support goals. Businesses with photos and 360 virtual tours are twice as likely to generate enquiries.