Are you looking for new digital marketing tools to improve your small business?
Well, it's no longer necessary to spend millions on marketing to stay ahead of the competition. Whether you pay money to outsource a task or bootstrap by investing your own time, digital marketing provides a high ROI.
I think you will agree with me when I say the problem is that there are thousands of digital marketing tools available for you to use and choose from.
The difficulty is knowing what to use and why, especially if you are not a tech savvy marketeer.
Some tools and services are free, while others cost significant amounts.
Using digital marketing tools can take some workloads off your shoulders.
Many of these tools are especially valuable for small businesses that cannot afford to hire full-time marketers or need to outsource work to marketing agencies.
Based on their usefulness and affordability, we've compiled a list of the 60 different digital marketing tools we consider most essential for you to investigate further.
Ranging from artificial intelligence tools and social media management, to email marketing!
Whether you're looking to increase your website traffic, improve your graphic design skills or boost your sales, there's sure to be a tool here that will fit your needs. So what are you waiting for?
Start exploring today!
List of Different Digital Marketing Tools
These tools help our business grow, or we use them to provide services to our small business customers.
Either way, we have first-hand experience with many of the tools listed, so read on!
Please note that these are not listed in any order.
No website should be without Google Analytics.
It provides valuable information on who visits your website and how they interact with it, completely free of charge.
It works best when used with Google Search Console, another free digital marketing tool that helps you identify and optimise your site for visitors.
The Google Analytics tool provides the following data elements:
Number of website visitors each day, week, month or any other period you want
Where these visitors are coming from — other website referral programs, organic search, advertisements, social, or visit
This information is vital for optimising your website and marketing campaigns (keeping your SEO efforts low-cost).
We use Google Analytics to monitor our website and track data on client websites as a business manager.
Advanced users can consider using Google Data Studio, which allows you to create beautiful data dashboards and integrate data sources from multiple solutions. Integrating Google Tag Manager as well.
Ahrefs is a comprehensive suite of link analysis tools to help you grow your website's organic traffic and improve your search engine rankings.
In a way, this is an alternative to Search Console. However, Ahrefs isn't free.
If you're already a Google Suite user, there's no need to switch. But suppose you want to test alternative tools or find a tool for keyword opportunities and competitor research. In that case, Ahrefs is an option to consider.
Ahrefs includes powerful tools to do a link audit, find your competitors' backlinks, conduct keyword research, and find the most shared content on the web.
You can keep track of your site's SEO performance.
Ahrefs has a fantastic blog and YouTube channel, which provides tons of helpful resources to help you understand how to conduct keyword, link building and backlink research.
We use Ahrefs for keyword ideas and plan marketing strategies for our clients.
BuzzSumo is a powerful social media research tool to discover what topics are shared on social media. Find out what content your competitors share related to your niche and the most shared content formats.
BuzzSumo is especially useful for content marketers, because you can look at the most shared content in any industry.
We find this information can help you develop content ideas that your audience will love.
BuzzSumo offers a free option, limiting users to only ten searches a month. This is not a lot, but use it wisely, and worth using.
With BuzzSumo's Chrome Extension, you can research any article instantly. You can get results anywhere and everywhere – whether you're browsing competitor sites, media publications or your content.
You should not use your finger in the air while covering topics you think your audience will be interested in.
It's for this reason that 60% of business-to-business brands with the most successful content marketing have documented strategies. Among the brands with the least successful content, only 21% have a documented digital marketing strategy.
BuzzSumo is one of my favourite content marketing tools, because you need to do your research correctly.
Based on search topics, BuzzSumo shows trending content across social media. The results returned after your search terms can be analysed to see what appeals to you and get ideas for writing topics.
BuzzSumo just goes beyond viral posts and fundamental content analysis as a content research platform.
Among the tools BuzzSumo offers:
Researching keywords
Influencer search
Social media feeds based on topics
Analysis of content
Crisis management
Monitoring of brands
Canva is a graphic design tool that makes it easy to create, customise, and share your images on social media.
It's a user-friendly tool that offers a drag-and-drop interface for creating professional-quality designs for social media posts, blog images, print design and presentations.
Suppose you're not a graphic designer and don't have time to learn Adobe Photoshop, or want to find a low-cost alternative to expensive graphic designer tools. In that case, Canva will be a time-saving solution for you.
We've used Canva in the past, and it's always worth checking out the new design trends.
Canva was founded by Melanie Perkins, a technology entrepreneur from Australia. The founder and CEO of a tech startup valued at over A$1 billion (£742,300,000), Perkins is one of the youngest female CEOs in the world. Perkins was one of Australia's richest women as of May 2021, impressive and well deserved.
If you're a small business that uses Instagram and email campaign marketing, then tools like Canva are a must.
You can now print your designs on Canva and have them delivered to your door. The design can be printed as a business card, flyer, invitation, poster or A4 layout once it has been created. You can then select the paper quality, the number of prints, and the shipping method.
We love Canva's resources, blog and design school. There is so much fantastic information to help you skill up.
Other alternatives are Snappa, which we love and have used quite a lot over the years, Adobe Spark, again a tool we use and love. PicMonkey is a great tool we have used.
Now you have many more like GetStencil, Buffer Pablo, Visme, and many more to check out!
Screaming Frog is a powerful SEO crawler that makes it easy to identify and fix website accessibility problems, duplicate content and SEO errors.
It's like a more powerful version of site audit software like Google Search Console.
As a free SEO tool, Screaming Frog is the perfect tool to give your site an SEO health check before launching a new website or redesigning your current website.
Did you know Screaming Frog is a UK based search marketing agency? I didn't realise until doing the additional research for this post.
Screaming Frog is a desktop app unlike many modern internet tools, so you need either a Windows PC, MacOS or Ubuntu machines. This is not a tool you can use on Android, iPad, or even your phone.
The free version allows you to crawl up to 500 URLs, which is good for most small business websites. However, this includes website page URLs and your JS files and image files, so 500 is limited if your website has a lot of content.
Using the paid version might be a suitable choice if you need to analyse more sites or content.
We find Screaming Frog helpful when looking for errors or auditing customer sites.
Even John Mueller, a Webmaster Trends Analyst with Google Zürich, frequently said he found Screaming Frog super helpful and pays Screaming Frog.
Pretty much every small business owner would have heard about MailChimp? Am I right?
Email marketing service provider MailChimp is one of the best-suited email tools for small businesses.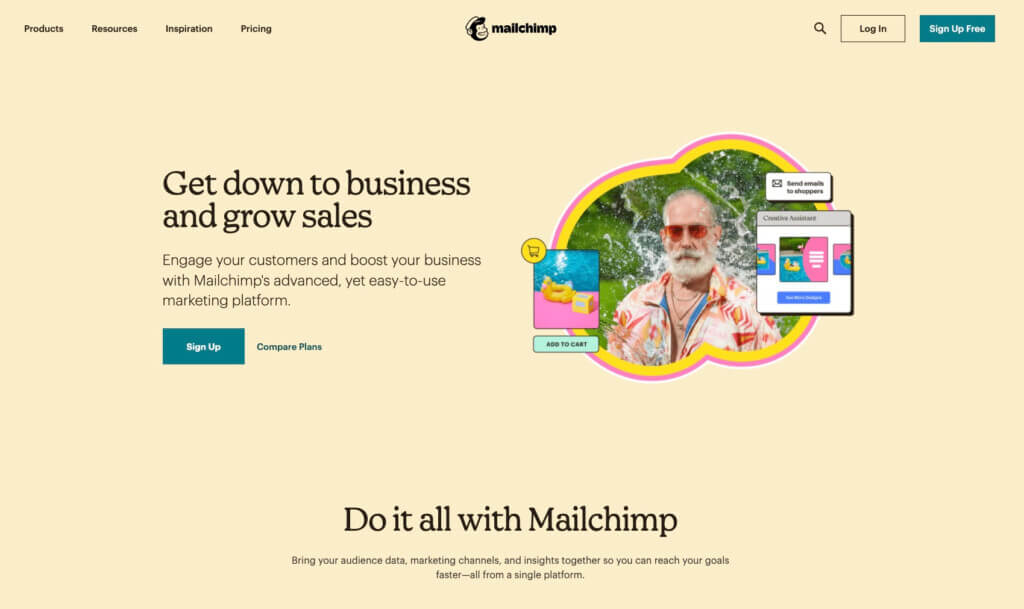 Among MailChimp's features are email editor, email templates, automation, integrations, SMS services for events, spam filter diagnostics, A/B testing, high deliverability, email list segmentation, grouping, robust reports, and much more.
Up to 2,000 contacts can be emailed for free using the platform.
MailChimp was founded in 2001 and is 100% founder owned.
What started as a mass email marketing tool has now migrated and followed the trend of becoming a marketing automation suite.
If you're new to email marketing and have a small contact mailing list, you can't complain. As a free product, you can't complain.
As a MailChimp Partner. We use MailChimp with our smaller clients to build automated email marketing campaigns, integrate with other applications, customise email templates, and manage email marketing.
There are mainly lovers and sadly haters of MailChimp. It can be overwhelming with so many email marketing platforms to choose from.
Many small businesses opt for MailChimp because it is a well-known company. They now have TV adverts here in the UK! And it's free to use when you have a small contact list.
But as your business grows, you might find you need more advanced features from alternative products like ActiveCampaign, Aweber, Sendinblue or GetResponse.
In our experience, Klaviyo is one of the best email products for eCommerce stores. Again, another solution we partner with.
So, before you commit to any new email marketing platform, it's worth considering how a system will be used with your current products. Also, how it might develop (cost, features, support) as you grow.
Here's a plug for our own products and services for your local search marketing needs.
It helps you rank higher, improve your reputation, and get more search traffic and leads from local searches.
If you're a local small business, having the tools to inspect how you're ranking locally is a must.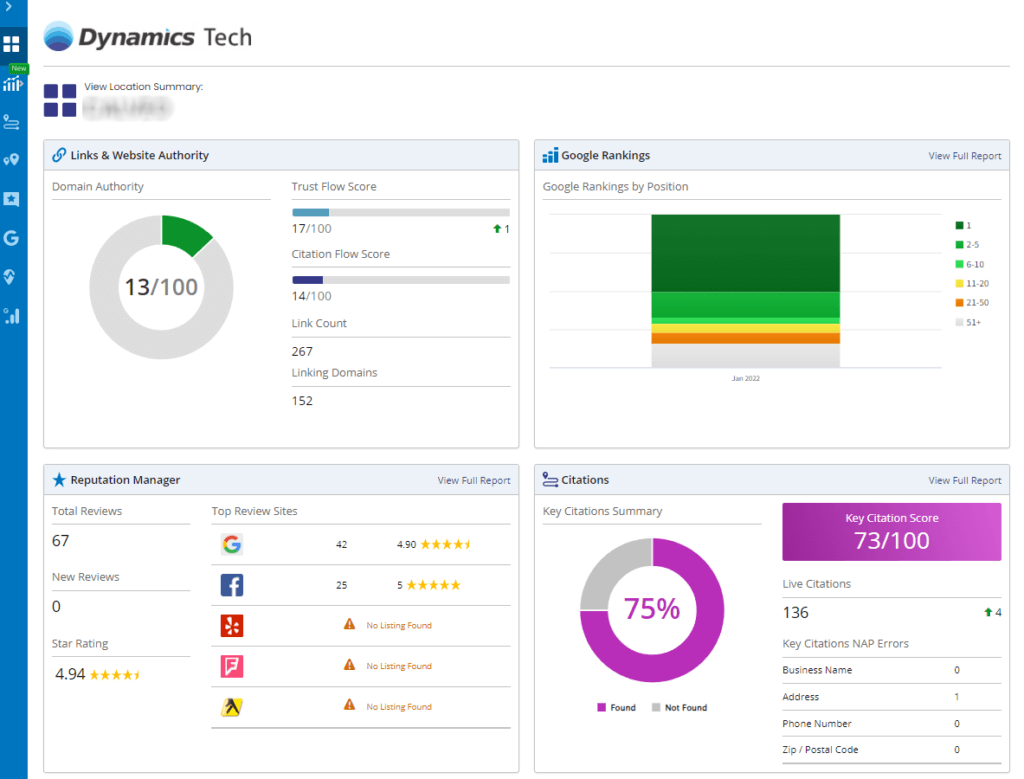 Herewith our Local Search Marketing service, we have a Rank Checker that can track up to 50 keywords, plus another 50 keywords for a slight increase in cost.
What's great is that we can track your keywords in Google, Google Mobile, Google Maps, Bing, and Bing Local. You can analyse the data for up to 3 years and drill down into keywords to view how they have performed.
Other features of the Rank Checker include grouping keywords into topical interests. This lets you see how your keywords rank in those various positions: top 1, 2nd-5th, 6-10th, 11-20th, 21st-50th, and 51+. This powerful tool can track competitors, and it's limited to 5.
A relatively new feature we offer is Local Search Grid ranking. This is super important for local businesses.
You can track up to 225 geo nodes on a map, spacing between nodes of 100 metres to 10 miles. You are limited to tracking five keywords, but we love the weekly or monthly email reports, which are great for clients.
Using a tool like our Local Search Grid ranking, relying on your Google Business profile for calls, directions, and visitors is necessary.
Another cool feature and service is the Citation Tracker. For those who don't know, a citation for local SEO is generally a reference to your company name, address and phone number. You can include the website address. We call this NAP.
Our tool scans the web for your NAP and provides a dashboard report of your Key Citation score. Any errors in your NAP on those sites and the links to the sites so you can fix them.
Citations are important for small businesses because they help get your brand noticed. Google uses NAP information to check that your business is still operating, and provides the correct information.
A great example of a NAP reference would be on sites like Facebook, Google Business Profile, TripAdvisor, Yell, Yelp, Bing, Yahoo! Local, 192, BrownBook, Infobell, Cylex and so on.
Each country has a list of popular business directory sites and tools like our scan to remain consistent, because irregularities in your NAP can affect your local rankings.
Besides the Citation Tracker, we have a Citation Builder service. We recommend most small businesses have between 100-400 citations.
Trying to build citations yourself is time-consuming and not enjoyable. But we've been able to develop a process of doing this work within a few weeks.
One of the coolest features of the Local Search Marketing system is the Reputation Manager.
Businesses can purchase this feature on their own, and for that reason, I've listed it as a separate tool within this blog post. But remember, this tool is part of the Local Search Marketing service.
Hopefully, as a small business owner, you know how vital Google Business profiles are? So, there's a dedicated Google Business Profile integration within the Local Search Marketing service.
With the Google Business profile API, we can collect data insight from 3 years, which you can't get from looking at Google Business Profile Insight.
You can track up to 5 keywords and show how you're ranking against other businesses.
We display this data in a table and show helpful information.
This includes the number of Citations, Links (backlinks), Linking Domains, Website Authority, number of Google reviews, the Average Star Rating, number of Photos in GBP, and what business category each business has set as their primary category.
This data is invaluable if you're a small business owner who wants to improve their local rankings. So, you can gain more calls, more visitors to your website, and hopefully more people through your front door.
Suppose you're a local business that's not sure how you're doing locally, how your Google Business profile is optimised, how your local rankings are, or how social media services are. In that case, we have an audit service just for that.
You don't even have to be a customer to take advantage of this feature, as we offer a free audit of your Google Business profile. Try it here:
Earlier, we spoke about Google Analytics.
We integrate with Google Analytics and pull your account's primary data into a friendly, attractive dashboard.
Again, we provide weekly or monthly email reports. This is a great way to glance at your Google Analytics data without logging into the actual Google Analytics platform.
We have a social media integration with Facebook and Twitter for the Google Analytics integration.
Integration with Instagram is something we are looking into, but it's not there yet.
This social media integration is a great way to view your post-campaign and analyse your Reach and Engaged Users and who's talking about that post. It's possible to look back up to 90 days.
We find this super helpful to learn how social posts have worked and how they have helped grow your audience.
Reach out if you are interested in this service.
The Online Reputation Manager is part of the Local Search Marketing Platform. It can still be purchased as a standalone tool.
When 90% of consumers read online reviews before visiting a business, and 88% of consumers trust online reviews as personal recommendations. Reviews are the main reason for clicks on local search engine results pages.
With Dynamics Tech's online reputation management tool, you can boost your brand's reputation online and generate more online reviews.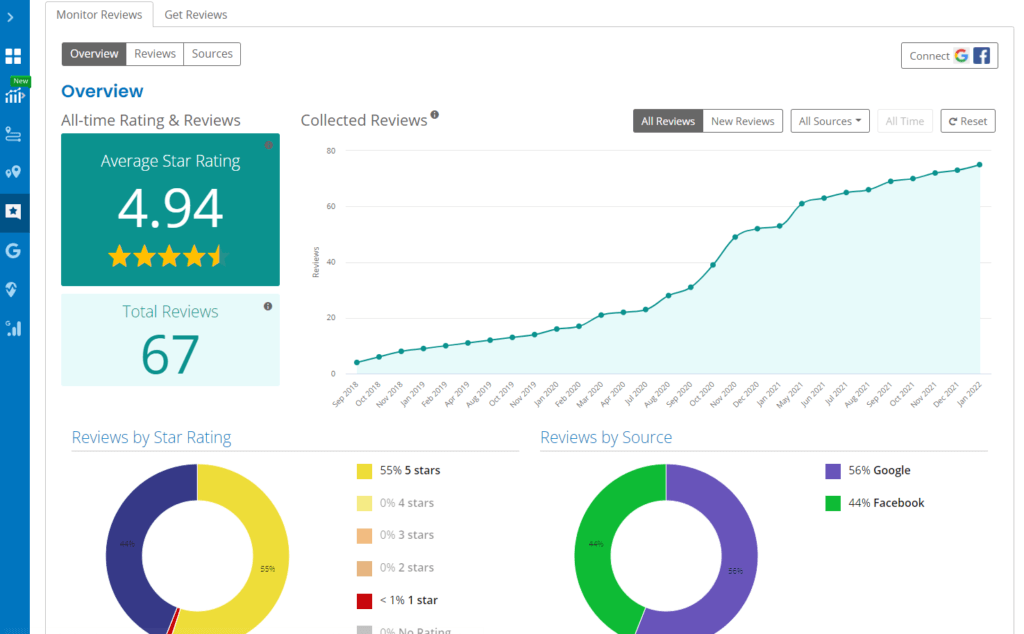 Managing and collecting reviews can be a challenge if you do not know where to start or do not have the right tools. But it's an integral part of every business's growth and digital strategy.
Monitor your reviews across 80+ general and niche review sites, a spot where ones need improvement, and never miss any customer feedback.
Improve your relationship with your customers by getting immediate feedback on their feelings about your business.
The Net Promoter Score measures customer satisfaction (NPS). This is included. Customers are asked whether or not they would recommend a business to their friends and family. 
We collect this information and provide you with key performance indicators (KPI), along with attractive data visualizations and options to understand, analyse and measure your campaigns and customer experience.
With our automated software, you can easily get reviews and manage your online reputation. We automatically create the best reviews at the centre of your attention by adding them to your website.
You can handpick your favourite reviews and present them elegantly on your site, or automatically show visitors the latest and greatest.
PrePostSEO is a Search Engine Optimisation Solutions company based in Pakistan. They have over 95 online marketing tools, including Plagiarise Checker, Text Summarizers, Grammar Checker, Backlink Maker, Age Calculators, etc.
It's worth looking through the tools you might find helpful.
I use their Google Indexer service, which allows you to submit up to 10 URLs to 65+ search engines.
This is super useful if you're someone who creates new pages for your website and updates your website regularly. You may post content on other sites and ensure that content is indexed quickly before competitors.
Search engines should not await changes to your website. You must submit your web pages to Google, Bing, and Yahoo as soon as possible.
Here are the reasons why you should Google ping your blog URLs as soon as possible.
To index your new content as soon as possible, before someone else grabs it and uses it elsewhere.
Having fresh content will improve your ranking in search engines.
You can save a lot of time by using this tool, which can simultaneously send 650 (10×65) ping URL requests.
It's free to use, so what's not to love?
Google Business Profile (GBP) was officially called Google My Business and is one of the most important tools/services you should use as a small business.
This will enable you to manage an existing profile on Search and Maps.
Your business information can be verified so that prospective customers can find you and learn more about your company.
Local search is a crucial component of a comprehensive digital marketing campaign, and Google Business Profile grows in importance.
GBP can be used for:
Communicate directly with your local customers.
Provide timely information to your customers.
Share news, events and offers with your customers.
Share photos and videos with your customers.
Your Google ranking can be directly affected if your profile is optimised correctly. You can use it regularly, posting photos, videos, 360 virtual tours, COVID-19 updates, offers and posting news. 
Small businesses know that GBP is a significant way to gain more business and outrank the competition.
The service isn't difficult to use, but many businesses still do not use it wisely.
Do Google Ads need much introduction?
The Google Ads platform lets you advertise online by bidding to display short advertisements, service offerings, product listings and videos to internet users.
Ads can be displayed on search engines like Google Search and non-search websites, mobile apps and videos.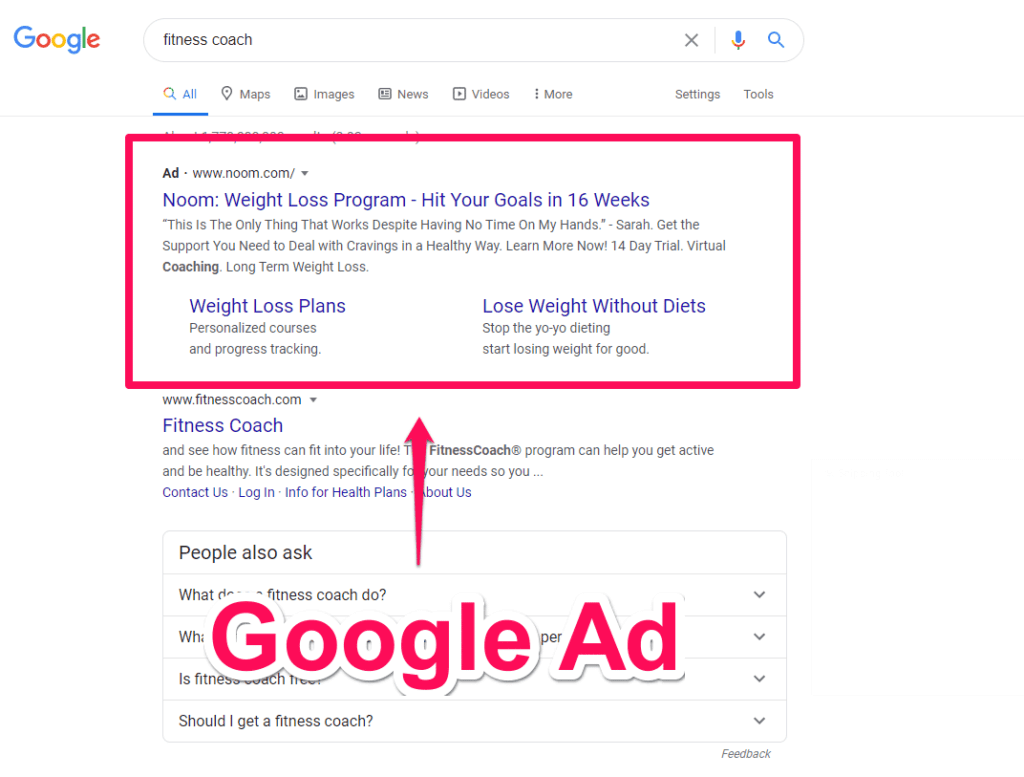 Suppose you're a small business looking to gain traffic to your money pages (products, services, lead capture forms). In that case, Google Ads is a super quick and inexpensive way to target customers.
Google calculates that for every £1 advertisers spend on Google Ads (formally Google AdWords), they get an average return of £1.59 ($2). This is a 200% return on investment (ROI) rate (or 2x return).
According to Google search statistics, 41% of clicks go to the top three sponsored ads when people search for something.
Google Ads on the Search Network cost an average of £0.66 to £1.32 per click in the UK. But some keywords can cost more than £20 per click.
A significant benefit of Google Ads is that they offer businesses of all sizes a cost-effective way to reach an almost limitless audience. You can start, stop, pause, and adjust your bids in the bidding system.
We can help you if you don't already have a Google Ads account for your business, don't have a Google account, or are unsure where to start with online advertising.
Ubersuggest is a product by Neil Patel. If you don't know of Neil, he is a New York Times bestseller author. In addition to Crazy Egg and Hello Bar, Neil founded and sold several other successful companies, including Quicksprout, and runs his marketing agency.
Neil is one of the most popular digital marketing influencers. He is listed in the Wall Street Journal as a top influencer on the web. Entrepreneur Magazine said it is one of the 100 most brilliant companies.
So, what about Ubersuggest?
You can use Ubersuggest to spot what strategies are working in your market, so you can adapt them, improve them, and gain an advantage.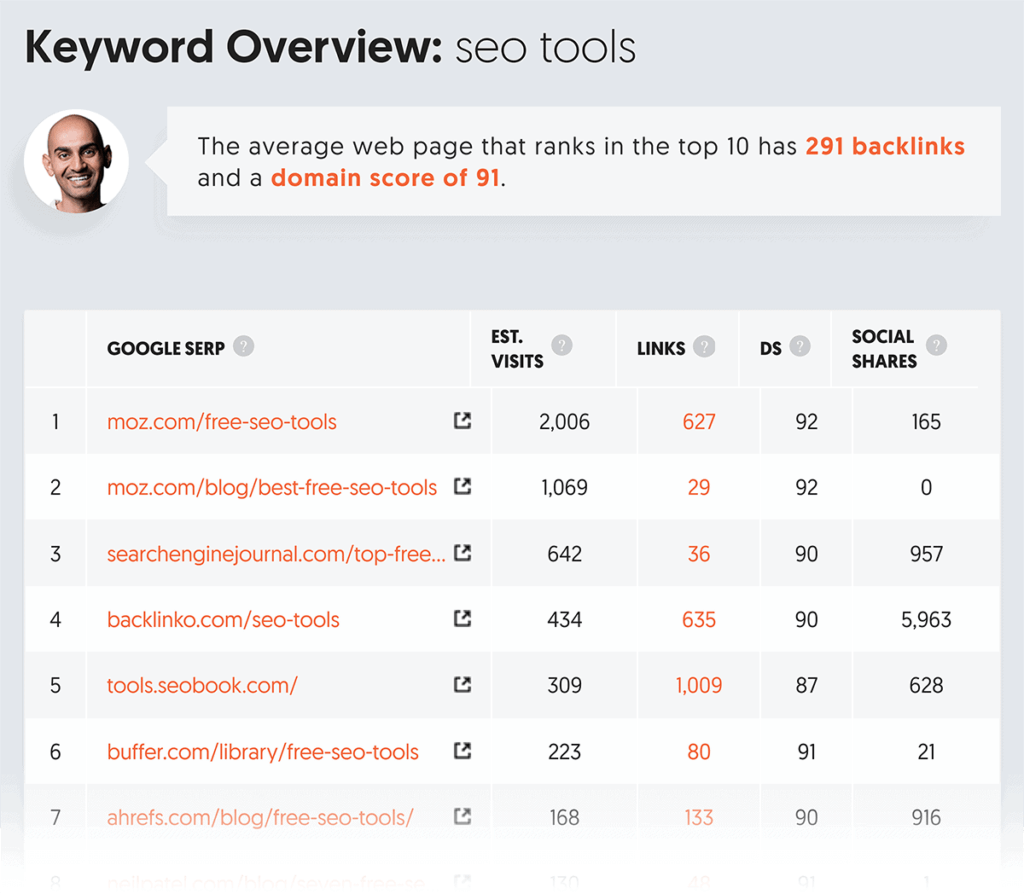 A powerful SEO tool, Ubersuggest, shows you monthly search volume, CPC & competition data for keywords using its free Chrome extension. You can use the Ubersuggest extension to find insights related to specific keyword queries on Google and sites like YouTube, Amazon, and more.
Over the years, I've used Ubersuggest a lot for keyword research. We have client accounts for keyword ranking and reporting.
The product was pretty much free to use, but now there are some use caps and new pricing plans.
There are plenty of keyword research tools on the market to try. To name drop just a few. These include:
Ahrefs
SEMrush
AnswerThePublic
Moz
Soovle
Jaaxy
Google Search Console
SEOCockpit
Google Keyword Planner
KeywordTool.io
Keyword Everywhere
Keyword Snatch
Google Trends
KWFinder
QuestionDB
Surfer
BiQ
Keyword Revealer
SEMrush is a software-as-a-service platform. It is a top-rated tool and something I use here at Dynamics Tech.
SEMrush tools are often used for keyword research and online ranking data, including metrics such as search volume and cost per click (CPC).
Additionally, the platform gathers keyword data from Google and Bing.
One of the latest features is SEMrush's keyword intent, which shows what the intent is behind the keyword, e.g.,
Information – The user wants to find an answer to a specific question
Navigational – The user wants to find an answer to a particular question
Commercial – The user wants to investigate brands and services
Transactional – The user wants to complete an action (conversion)
This is super helpful when planning out your keywords.
I used SEMrush to work out what keywords to target for this blog. The keyword intent was information. All the other keywords were commercial intent, and my purpose today was to share information, not sell.
Another excellent tool within SEMrush is the Site Audit tool, which looks for errors. SEO Content Template can be beneficial. The Keyword Gap tool is awesome and allows you to compare your keywords with your competitors.
Domain Overview is excellent when you want to learn about a particular website. You can find out how many visitors the site has, where the traffic comes from, and what keywords generate the traffic.
You can check the website's backlink profile to see how the site compares to similar competitors' businesses.
That kind of information is super important when planning out your strategies or researching markets or competitors.  
As part of our work here at Dynamics Tech, SEMrush is a must-have tool.
SEMrush certainly isn't a cheap product to use, so unless you can afford it, it helps work with companies that use tools like these.
Use Envato Elements to download thousands of digital assets. Includes millions of Video Templates, WordPress Themes, Photos, Graphics Templates & More!
A monthly subscription to Envato Elements gives you broad commercial rights for everything you create. You can use items with confidence in all your projects.
Maybe you have a presentation to prepare for? So, in that case, you could download one of the many pre-made design templates for PowerPoint, Google Slides or Keynote.
You may need graphics for your next marketing campaign. In that case, you could download one of the many vector files, layered Photoshop designs or Tileable, and customise them for your projects.
Over the years, I've downloaded tons of resources from Envato. I don't want to know how much money I've spent over the years on WordPress themes.
A tool for geekier people like me.
META SEO Inspector is a free Chrome extension that you can add to your browser. Once activated, you can use the inspector to check how SEO is compatible with your web page.
This is super helpful when building websites or web pages and checking key SEO perspective information. One of the key features I like is the Headers, which shows the order of your header names and any warnings.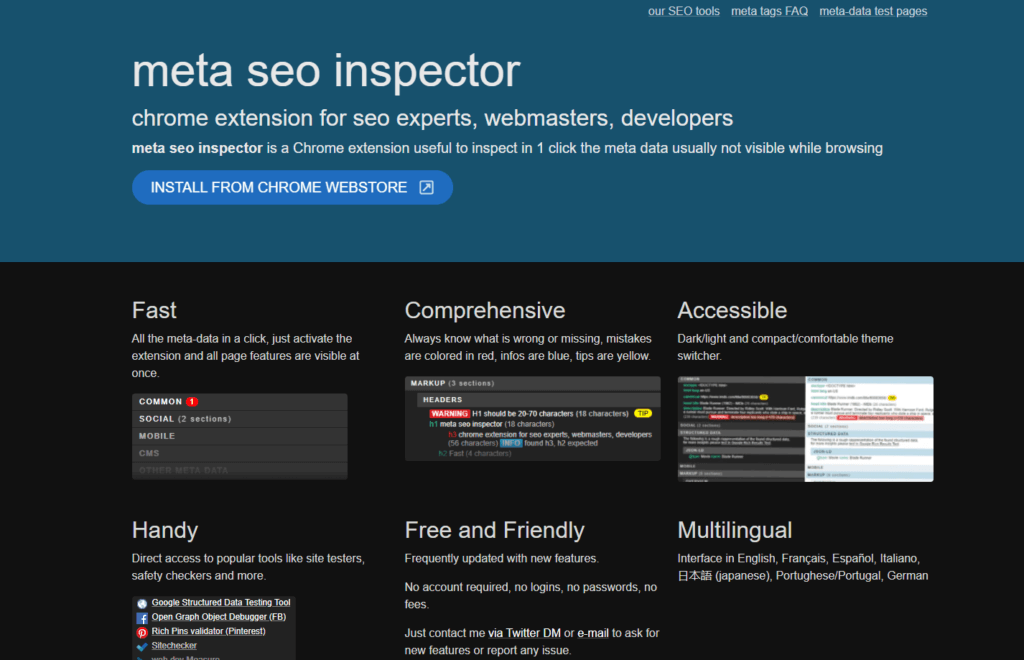 For example, H1 is your top headline on the page. So, your subheadings as shown in the document are H2, H3, H4, H5, and H6.
You should have an H1 followed by an H2. Subsequently, an H2 is followed by an H3, etc.
If this is not in the correct order, then this is a poor document substructure that Google and other search engines rely on when indexing page content.
Other features include anchor warnings, which show which URL links you have on a page that does not have anchor text. Again, poor markup for search engines to understand what your page and links are for.
What images have Alt tags, again document markup, which tells the search engine what the image is about.
The tool includes quick links to other popular tools like Sitechecker, Google's Web.dev, and WaybackMachine.
I find this tool super helpful. It's free, so it's on the list.
Another browser extension I regularly use is WhatFont.
If you've ever wondered what font a website uses within its design, simply click WhatFont and hover over it to see what is being used!
Brilliant, hey?
Another nifty feature I like is that it shows the colour of the font, as well as information like the line height and font size.
All this information is beneficial when researching and designing web pages.
Keyword Tool by Essential Apps LLC is another keyword research tool you can use. I made the list today because I used it to find alternative keywords, but I couldn't find them using SEMrush or Ahrefs.
We like this tool because it is used for Google keyword research and for your eCommerce store owner. Then you can scan for keyword ideas that have a significant effect on Amazon and eBay!
Social media warriors can use their Instagram keyword research, which will help you find the best-searched keywords on Instagram to grow your account.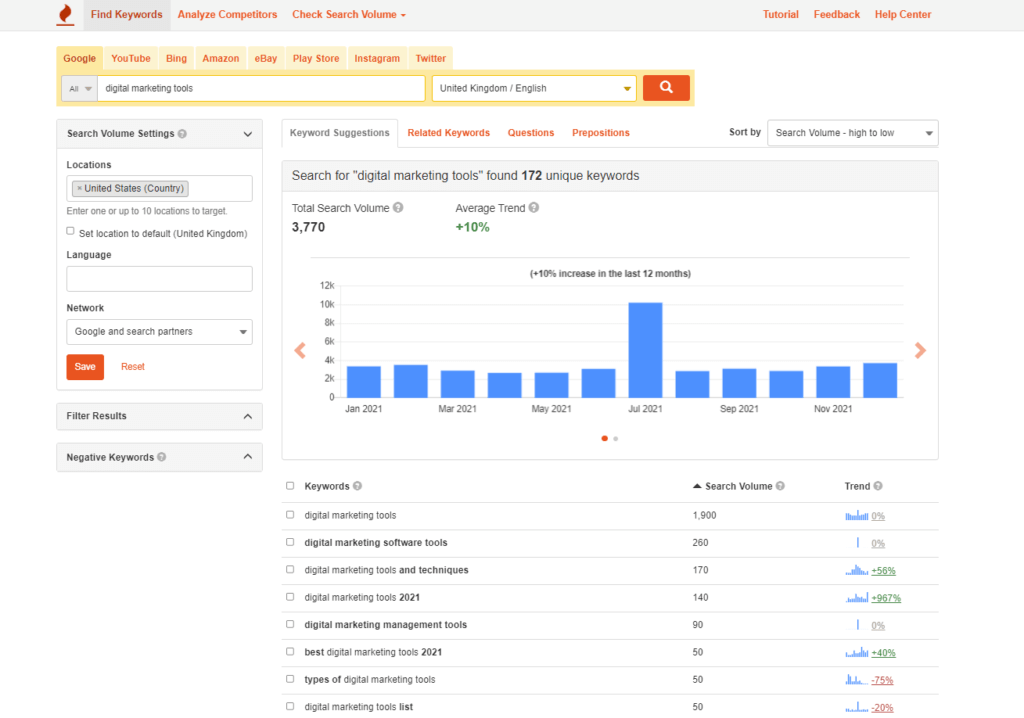 As with all keyword research tools, search volume data can be misleading and taken with a grain of salt.
You can use the tool to scan competitor websites to see what keywords they are ranking for. We have 997 related keywords ranking at the time of writing.
From personal experience, I would use different tools together, so use Keyword Tool to find some unique keywords. Test these keywords in tools like SEMrush to see what else you can learn.
Don't forget to try the keyword in Google.
If you've ever wondered how many words are on a web page, then wonder no more. A fun tool you may not be used in your work is counting how many words are on a web page.
There are various browser extensions I've had success with, and others I've not.
The two tools I've been using over the years are Count Von Words for Edge browser, and Word Counter Plus for Chromium web browsers (Chrome, Opera, Edge, Vivaldi, Brace, Torch, Comodo Dragon).
Although I've just installed Word Counter Plus on Edge now, so I might remove Count Von Words, but seeing the vampire is cool so it might stay.
To make it work, simply highlight the words on the page you want to count, right-click on your mouse if using Windows, and select the app.
The nifty app then gives you those details.
If you're someone that writes content, then finding out how many words are on specific pages is super helpful to know.
Outwrite does more than just check for grammar. It makes your writing clear and concise. Use Outwrite to improve your writing.
Most people have heard of Grammarly, which is excellent, and I'm a paid customer. But I also use Outwrite, and I'm a happy paying customer of that product.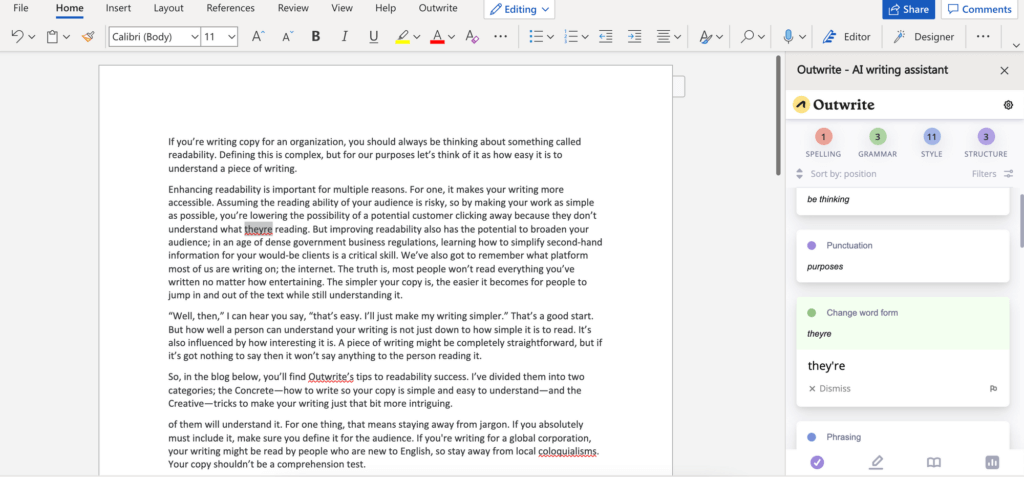 Because it just finds other grammar and spelling mistakes, Grammarly doesn't, and Word certainly doesn't.
Without a tool like Grammarly or Outwrite, I wouldn't dare write anything for the public… But Outwrite, Grammarly, Ginger, ProWriter, Hemmingway, and Sapling all save my ass. Thanks to these tools, I have much more confidence in my writing these days.
I must spend £300+ a year on such tools. Still, it's something I use daily, whether writing in a Word document, building a website page, blogging, drafting a presentation, writing emails, support desk replies, or mocking up graphics with text.
Marketing and sales professionals use their writing to influence customers to stay with their clients' brands. That means you need to write an engaging, concise copy.
If you need to answer a customer's question or resolve an objection, you rely on an email or reply within your Help Desk. However, if you make an error, it will look unprofessional.
As a business owner, you must check your work for plagiarism. Your search results will suffer if search engines detect that your post or website contains a lot of plagiarism.
Business owners who employ content writers can check for plagiarism with Outwrite's plagiarism feature.
Outwrite's plagiarism tool allows you to scan your work via a web app or plugin for Google Docs, Microsoft Word, or Chrome. Because of this, you won't have to copy-paste your content every time you need to check for duplicate content.
I use Grammarly and Outwrite to proofread blogs and documents, so both are accurate but in different ways.
Outwrite is an excellent style and readability checker, while Grammarly focuses primarily on spelling and grammar.
 Additionally, Outwrite has many useful features. Here are a few:
Suggestions for improving style
Using an advanced plagiarism checker
Grade level detection
Different writing styles are required for different websites and clients. You'll need to use a more formal writing style if you're writing for a law firm.
In contrast, you'll want to write in a casual and friendly tone if you're writing for a magazine or blog post.
You can fine-tune your writing voice by using Outwrite's style suggestions.
These tools help, and I hope they will help you too.
Are you interested in keeping an eye on your competitors? A single click will show you the categories for any Google Business Profile (formerly Google My Business) page, as well as the categories of local search winners.
I save a lot of time with GMBspy when working on client GBPs! The top 20 Google Maps or Google Local Finder search results can even be downloaded as a comma-separated file with the business names and categories.
Google Business Profile (GBP) categories are crucial in determining the ranking of GBP properties in the "local pack".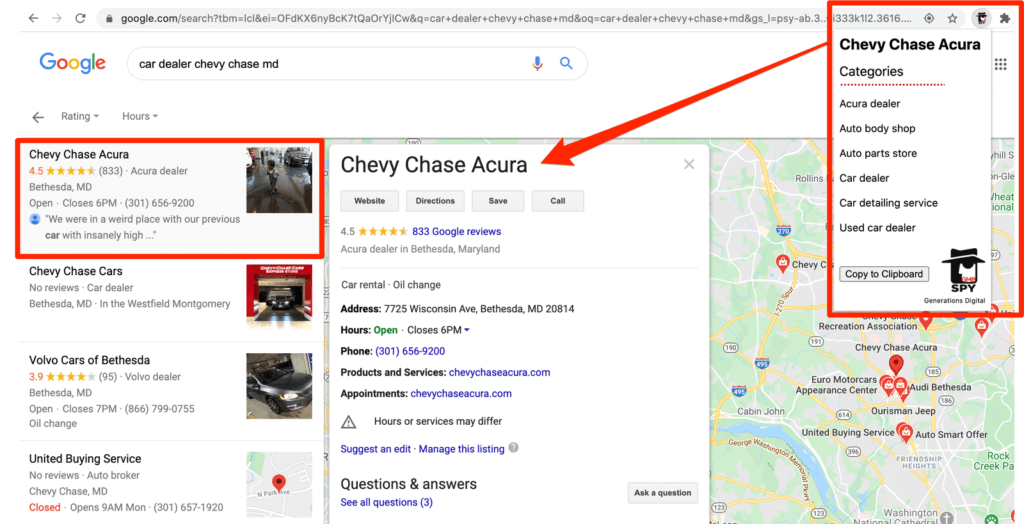 By adding categories to your GBP listing, you help feed Google's Knowledge Graph about your business.
Choose your primary and secondary GBP categories strategically and meaningfully for your specific business.
Many business owners mistake GBP for choosing the incorrect categories.
One of the best features of GMBspy is that it is entirely free! Once added to your Chromium web browser, the extension can be used as much as you like.
No subscription required. There is a donation button on the tool that people can use to support development costs.
Another Google Business Profile Chromium web browser extension that makes our list is GMB Crush.
GMB Crush is a Google My Business Audit Tool/Google Business Profile that reverses engineering your competitors' Google My Business success in just two clicks.
Like GMBSpy, you can discover what categories the top listing uses and the exact order rewarded by Google.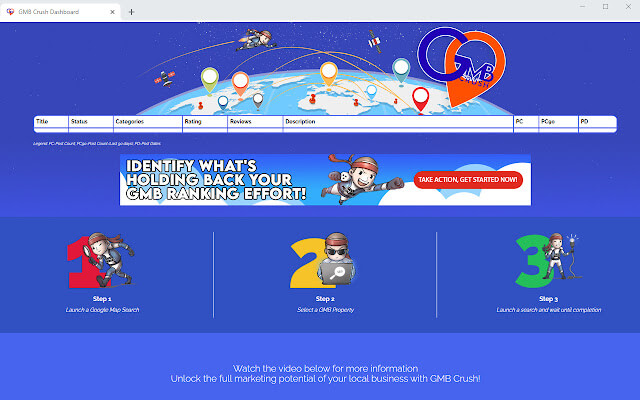 You can identify whether customer reviews and ratings affect your niche's search rankings.
Calculate how much and how often you should post. Discover your competitor's GMB post frequency in just a few clicks. 
Use the tool to analyse competitors' on-page weaknesses and exploit them. Plus, identify where your efforts will have the greatest impact on Keyword Frequency. 
I've used the tool a few times, and I enjoy the Facebook group, which shares plenty of GMB tips.
21.

Jasper (formally Jarvis)

Jasper AI Writer is a revolutionary new predictive text engine that will write entire articles for you.

 

Artificial intelligence powers it and deep neural networks, which means it can understand your style, word choice, topics and sentiment.

 

So, if writing has always been a pain for you or because you are not good at grammar or spelling. Maybe then Jasper AI Writer will be perfect for you.

 
This tool will take complete control of your writing in just a few clicks, and is one of the easiest ways to get your writing done.
Jasper AI Writer can write any kind of article on various topics. Whether you want content for SEO, digital advertising or simple blog posts, Jasper AI Writers will be able to write them all.
The only thing you need to do is select the topic you want your article to be written on and then feed it with keywords (up to 25).
Jasper AI Writer will then run on AI and neural networks, which means the article will have no grammatical mistakes. Each sentence will contain a logical flow.
Jasper AI Writer is helpful for content marketing purposes. You can use it to write product reviews and descriptions for eCommerce websites or to create a blog about different topics depending on your niche.
If you are into affiliate marketing, you can use Jasper AI writer to create content that helps your readers decide about the products they want to buy.
The best thing about Jasper AI Writer is that you don't even need to be online to use it.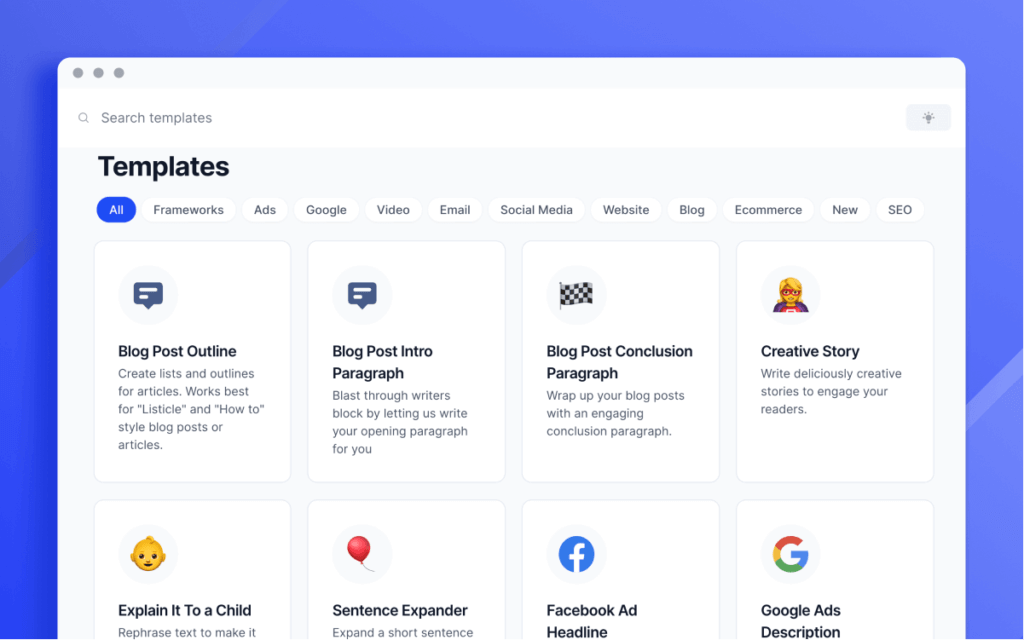 This tool is indeed a must-have tool for any blogger out there.
This will make your job as a blogger easier and more enjoyable, as it will save you the time and effort that goes into creating your content. 
Relying on AI is a great way to get more traffic.
Imagine an AI writer creating your content. How would it make your website or blog more trustworthy and reliable?
Artificial intelligence has already changed the world we live in. Many business processes rely on it, from messaging to image recognition. 
There are many new tasks in which AI will play a role, and with Jasper AI Writer, you will be able to try it for yourself.
In my opinion, FeedHive is the ultimate social media management tool. It uses AI-derived post templates and customisable scheduling plans.
With the help of artificial intelligence (AI), FeedHive has built a database of over 500 templates generated by analysing top-performing posts on social media platforms.
You can easily find inspiration when you are stuck writing. 
Using custom, colour-coded labels, you can organise your content based on themes, trends and topics relevant to your brand.
Afterwards, FeedHive will automatically fill your content schedule based on a recurring posting plan guided by your categories.
Furthermore, you can recycle your most successful posts from the past, increasing your efficiency and resurfacing evergreen content to your followers that have already been proven to engage them.
Once your posts are written and scheduled, FeedHive helps you convert followers into customers.
As soon as your content reaches a certain engagement threshold, you can trigger follow-up posts that will leverage high-performing content.
You can include a link to buy your product or service. So, you can wake up to sales even if a spike in user engagement happens in the middle of the night!
Through FeedHive's analytics dashboard, you can track the performance of individual posts and share broader insights that can help you improve your marketing strategy.
Keep an eye on your followers' engagement levels and their activity habits will allow you to determine the best times to post.
You get to see post-by-post data as well as likes, retweets, impressions and engagement rates, in addition to post-by-post data.
With FeedHive's analytics dashboard, you can keep track of individual posts and share broader insights to assist with your marketing strategy.
By monitoring your followers' engagement levels and activity patterns, you will determine the best time to post for maximum visibility.
We found that using FeedHive, you will never miss another social media opportunity since it allows you to automate your posts.
I love Surfer SEO. When I first used the tool, I wasn't sure how it worked and gave up using it after the trial.
Then maybe 12 months later, I gave it another shot.
I spent time understanding all the data metrics and watching YouTube videos, as you do…
With Surfer SEO, you can analyse Google Search Engine Results Pages on a deep level, a service not offered by most other SEO tools.
This tool will analyse over 40 of the top-ranked web pages within your industry and compare the key on-page elements.
So that you can have the best rankings, you can optimise your pages in this way.
I'm pleased I gave it another go because I genuinely love Surfer. As an SEO specialist for clients, tools like Surfer SEO are a must, and they are a game-changer.
GeoSetter is a freeware tool for Windows that displays and modifies geospatial data and other metadata (IPTC/XMP/Exif) of image files (e.g., images taken by digital cameras).
Some websites give valuable information about images, such as exposure settings, camera brands, etc., when viewing images on the Internet.
Known as "EXIF Data," this information can determine how photographers capture images and what tools they use.
Over the years, I've tried various tools to GEOTag and embed Exif data into images. Still, I find GEOSetter easy to use, quick, and you can bulk update images, plus it's free.
I hear you ask why you would want to add Exif data to the image?
Well, suppose you're using your phone camera to take pictures. In that case, you won't need to add Exif data because the phone already includes that data in each photo.
However, if you have either older images or images you have sourced elsewhere and don't include any metadata.
Adding this information to an image can help the search engine understand the image better.
Doing so can help your page rankings, especially for local SEO.
Like Canva, Adobe Creative Cloud Express (formally Adobe Spark) lets you create stunning social posts and small graphics. 
Canva has a longer list of features and offers more content than Adobe Creative Cloud Express.
I like Adobe Creative Cloud (or CC Express for short, if you like) and use it with various in-house and client projects.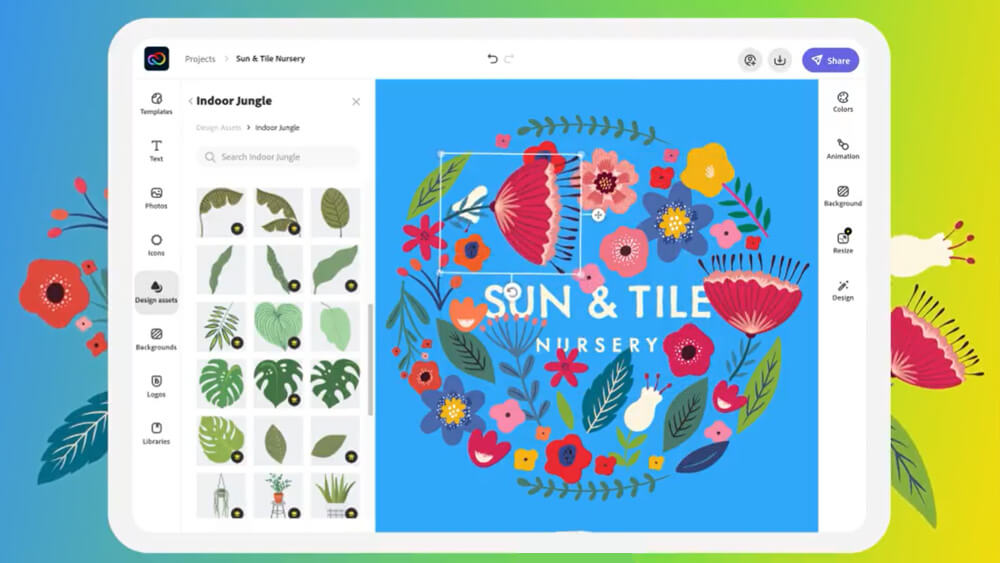 CC Express is intended for users who want to create fast visuals, such as brand graphics, collages, presentations, ads and photo edits. 
An extensive library of templates is available to inspire ideas and kickstart projects. Still, users can start from scratch using a blank slate.
Adobe designed this product from ideation to creation to make it as simple as possible.
This means that the drag-and-drop interface comes with quick and easy tools that anyone can use, requiring no design experience.
It provides templates in many formats, including Facebook and Instagram posts, flyers, posters, collages, resumes, menus, and more.
Getting started couldn't be easier.
I particularly like the branding feature, where you can set up different brands and import them into your projects.
By using these, you can quickly change the artwork to match the project brand, such as the company or client's colours, fonts and logo.
However, I haven't used the video editing feature. CC Express can trim, resize, and merge with other videos.
It can convert it to GIF, reverse, and do a few different actions, but it isn't robust.
Additionally, it has several plugins, including Adobe Stock, Lightroom, Dropbox, Google Photos and Google Drive, to enable users to connect assets already owned by them. 
I am disappointed that there's no OneDrive integration.
Those who work collaboratively can share their designs with others by inviting them to view and edit them. 
If you want to do everything in one place – enhance an image, remove its background, create an easy collage. Maybe add more design elements. This includes adding high-quality stock photos – CC Express will exceed your expectations.
Without a doubt, CC Express delivers a user-friendly workflow with endless creative possibilities.
With Adobe Lightroom, users can edit photos, create albums, and share them online.
In digital marketing, you will often work with photos you've taken, either once you've commissioned, or photos sourced from the web.
Having a robust photo editing tool is a must, and you can't go wrong using any Adobe product. It's like buying IBM.
In Lightroom, you can modify images in various ways: adjust exposure, white balance, saturation and contrast; correct glare; crop the image; change focus (across multiple photos); add a lens, blur effects, and merge exposures from numerous exposures into one.
Lightroom offers an automated batch of images, making it ideal for photography professionals who fix or enhance their images.
There's two versions of Adobe Lightroom. Classic and CC. This can be a little confusing, but both come with Adobe Creative Cloud.
If you want to make quick edits then use Lightroom CC. If you want to enhance your photos like a professional, then you should use the Lightroom Classic version.
For example, Lightroom CC can be used by Instagrammers to create collages straight from their phones.
Are you a Microsoft 365 user?
Great, read on with joy.
If not, read on with envy.
One of the most unknown features, especially for small businesses and non-tech users, is Microsoft's Power Automate app.
As part of the Microsoft Power Platform, Power Automate is part of a larger suite. Power BI, Power Apps and Power Virtual Agents are part of the Power Platform. 
With Power Automate, you can connect to Microsoft's software suite thanks to the Common Data Service Platform.
Microsoft Teams, Dynamics 365, Azure, and more are part of this suite.
Do you know it can be used for digital marketing?
With Microsoft Power Automate, users can create workflows between desired applications to synchronise files, receive notifications, and collect data. 
This intelligent cloud-based solution uses triggers and actions within a workflow to automate repetitive, manual, and time-consuming tasks without human intervention. 
Power Automate boosts user productivity by enabling you to automate tasks quickly and securely and employ intelligent workflows with minimal effort. 
With pre-built connectors, users can build time-saving workflows that handle tasks as simple as individual tasks to large-scale systems with seamless integration. 
By automating time-consuming manual tasks with built-in AI capabilities, organisations can devote more time to strategic, high-value opportunities.
The pre-built workflows included in Power Automate can be activated or customised to help you get started. 
Twitter and spreadsheets like Google Sheets and Excel can track and manage social media presence. 
For instance, if your boss asks you to track down Twitter mentions of your brand (or keywords or hashtags).
You can simply activate the workflow that stores the Twitter mentions on a spreadsheet. 
Perhaps you want to be notified whenever your brand is mentioned on Twitter, whether positive or negative. This workflow can be activated. 
Another example is using MailChimp and keeping a separate copy of the member list in SharePoint. 
With Power Automate, you can organise and capture data from surveys, email campaigns, and more – without all the time-consuming manual copying and pasting. Create a simple template for your CRM with this email address.
Based on these two examples, you can build highly complex business workflows to manage your entire business.
The most popular connectors are Adobe Sign, Bing Search, Asana, Mailchimp, DocuSign, Dynamics 365, Outlook, Salesforce, Google Drive, Eventbrite, FreshBooks, Trello and Twitter.
While some connectors may need additional licences, these expand the possibilities of what you can build and automate within your business.
Dynamics Tech uses Power Automate workflows to manage the blogging process, including creating tasks, setting deadlines, adding information to Microsoft Planner, replicating document templates, and so on.
There are many more automation and workflow applications, including the two we will cover in this post, IFTTT and Zappier.
Different apps have different connectors with other products. You might need to use a combination.
But if your business uses Microsoft 365, Power Automate is a great tool to leverage tremendous automation and workflow across all departments.
Are you someone who likes to plan out your marketing projects or tasks?
Maybe track marketing plans and tasks for client work and yourself.
In that case, Microsoft Planner might help you get more done.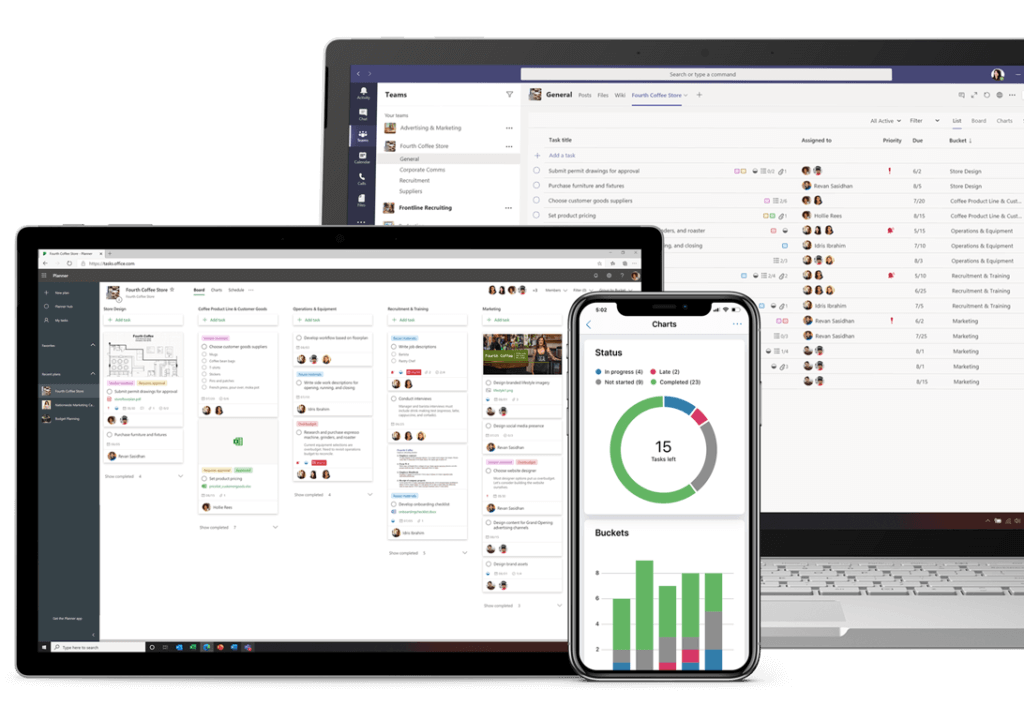 Planner is a Kanban solution for teams that simplifies task management.
It's an easy-to-use tool that is fully customisable. It uses a simple card-based interface with files, checklists, labels, and more to track progress and deadlines.
Additionally, it is fully integrated with other Microsoft apps, such as Teams. Microsoft Planner can manage your teamwork and ensure everyone knows what to do.
Organising and planning personal tasks can be accomplished with a planner.
Tasks can be scheduled in Planner, and you can see how tasks are distributed within your team, as well as due dates.
Microsoft Planner allows you to filter tasks based on criteria such as the person responsible, task label, due date, etc.
This plan comprises content-rich tasks that give expected details, such as due dates, and other elements, such as colour-coded labels, besides the expected details.
With the Planner, you can be focused while staying organised.
Instead of creating complex status reports, it is better to build simple ones.
Pie charts and bar charts allow you to visualise the task status without having to set anything up.
You can use the Planner anywhere. At your desk? Just go to tasks.office.com. While on the go? You can update the tasks using your mobile device.
Are you using Microsoft Teams? If so, download the Microsoft To-Do and Planner Apps, which will enable you to update your tasks wirelessly.
Since Microsoft Planner is a part of Microsoft 365, it is highly secure, just like the rest of your Microsoft 365 apps.
The Microsoft 365 platform integrates Planner with Microsoft To-Do, SharePoint, Power Automate, and many other apps to help manage tasks effectively.
Microsoft Teams and Microsoft Planner work well together.
The Tasks app in Microsoft Teams combines all team member tasks logged in Planner, individual tasks logged in To Do, and advanced collaboration features.
I'm currently just getting into using Planner more than before.
I am still switching between Wrike for larger projects.
I still love that Planner integrates with the rest of the Microsoft 365 ecosystem to be automated with Power Automate.
I'm using Planner for the blogs for digital marketing, both within the planning stages, and managing all the pre-publishing tasks, not just for own blogs but also for client posts.
I think it's wise to start off with something simple that can keep you on track for a specific project that you might need to replicate over and over.
Maybe you're working in a small team, either within the same office building or, better yet, when everyone is working from their own location.
Every business needs a central location for projects and tasks.
Be honest, are your PowerPoint presentations boring?
Sway is a presentation program included in the Microsoft 365 suite.
With Sway, you can simply create and share interactive reports, personal stories, presentations, and more.
Sway will do the rest once you've added your own text and pictures, searched for and imported relevant content from other sources.
With Sway, you don't have to choose a pre-made template that makes your presentations look like everyone else. And you don't need any design skills to showcase information in an engaging, interactive, and modern way.
You don't have to spend a lot of time formatting with Sway.
The design engine makes your creation look its most appealing.
If you don't like the initial design, you can apply another or entirely customise your layout.
Sharing your finished Sways is extremely easy. Coworkers and clients can see your creations on the web without registering, logging in, or downloading anything.
If you want more control over what you share, you can change the privacy settings for any Sway.
With Sway, you can express yourself creatively, whether in a report, a presentation, a newsletter, a photo album or a visual trip report.
Several of my clients need to prepare presentations about their work for potential clients.
As a result, I convinced them that boring PowerPoint or long-winded documents do their services no good. 
Since people's attention spans have significantly diminished over the years to about 8 minutes, they are visual learners.
Therefore, Sway is a visual and informative way to show what you do, so that people won't find it boring.
Put your hardcopy brochure in Sway and see if you can make it more interactive and visually appealing.
It is easy to send and view Sway on all modern mobile browsers, regardless of the platform.
Otter is a new app I'm slowly investigating and using.
The free version allows you to record 6000 minutes per month, which is 100 hours.
You can import audio and video files for transcription, including syncing in your calendar and then making voice notes next to each event, which is nifty.
They have a Chrome extension, which always makes using apps handy.
With Otter.ai, avoid taking notes at meetings by automatically joining selected meetings and generating live transcriptions that you can annotate and highlight in real-time.
Additionally, Otter Assistant automatically joins Zoom meetings, takes notes, and shares them with meeting participants to improve team collaboration in real-time.
Are you a Podcaster? If so, you can use Otter to transcribe many of your podcast episodes, so that you can create show notes with the time stamp.
Having show notes and podcast transcripts handy is important. Most search engines still struggle to understand rich media, but they can understand text very well.
With 10-minute videos, if a person speaks about 150 words per minute, as most people do, you are creating 1,500-word blog posts every day.
There is substantial information that search engines can index and understand without the need to mine the video.
This makes Otter an invaluable marketing tool.
Adobe Bridge is an application that manages your locally stored photos and graphics files if you're a user of those files. 
Unlike the Finder for Mac or the File Explorer for Windows, it allows you to dig deeper into stored metadata.
Since Adobe Bridge is part of the Adobe Creative Suite, you can preview files you might not be able to view in Finder or File Explorer.
With Adobe Bridge, you can preview, organise, edit, and publish multiple creative assets (including Adobe Photoshop, InDesign, Illustrator, After Effects, and Dimension files) with thumbnails and rich previews.
Viewing thumbnails of vector files is one issue Adobe Bridge solves for you as a Windows user (sorry, I'm not a Mac user).
Therefore, you cannot preview an image without opening it unless you have downloaded a specific vector viewer for Windows. It becomes a headache when you can't find the graphic image in the folder.
By batch renaming your files, you can save hours.
It makes it much easier for me to figure out which files to work with, because I can compare two or three images and zoom in on the details.
You can narrow down hundreds of images to the most relevant 15 images in just minutes.
You can see the files and the names of the files a million times better. It doesn't take hours to realise you misnamed something.
I had to figure out how to make Bridge run faster. It seems you need it to cache your entire library, so that once the library is cached, it can refer to those files quickly.
Despite that, I still don't use it as much as I should, since old habits lead me to open File Explorer first and not Bridge.
It's the best choice for you if you work with tons of files and different types of digital marketing files, and you need to keep them organised and tell the difference between them.
It will make your life so much easier to preview everything quickly while seeing the small details.
While many photographers are happy with the way Lightroom catalogues their images, Bridge is the way to go for anyone doing significant composition or video work.
It will save you so much time and effort.
Mega Creator is an online graphic design tool like Canva and Adobe Creative Cloud Express. 
You can create your own clip art using high-quality icons, illustrations, photos, AI-generated faces, and backgrounds. Build your own Facebook, Instagram, Twitter, YouTube, and Pinterest pages from scratch or pick from many social media templates.
Mega Creator is a program from Icon8. It's free to use if you upload and export your own images.
Over the years I've used Icon8 for sourcing icons for web and graphic projects. So it's a company trust and like.
Alternatively, you can access Mega Creator's graphic asset products, including Icons, Illustrations, Photos and Full Set, and get a paid subscription.
As its name suggests, a readability app gives a score between 0 and 100, depending on how readable your content is.
Basically, the readability of your content is determined by its ease of reading. If you get a 70 or above, most people can read and understand your message.
In contrast, if it's lower than 60, it's the opposite.
This algorithm includes other factors, such as:
It is based on the Flesch Reading Ease and the Flesch Kincaid Grade Level
Gunning Fog Index
As well as the Coleman-Liau Index
CEFR – Common European Framework for Reference for Languages
If you are a copywriter, blogger or author who occasionally needs to make sure they don't overcomplicate things in their writing, then use Readable.
Does your next marketing campaign need some creative inspiration?
Would you like to know which Facebook ads your competitors are running are the top-performing ones?
Consider looking at the successful advertising strategies of your competitors using the Facebook ad library, if this is the case.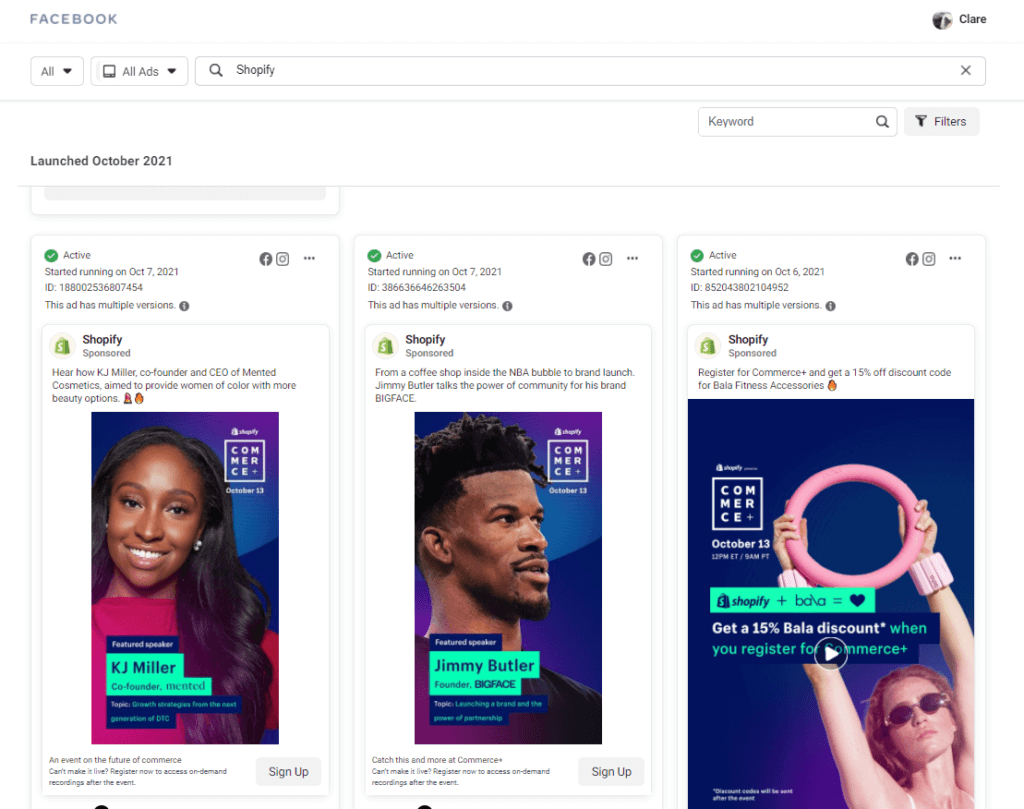 Over the last few years, Facebook advertising has become increasingly competitive.
Finding new creativity in a world where so many brands compete on social media is one of the most challenging tasks you will encounter. 
Watching your competitors' advertising campaigns is highly effective to get creative ideas for your own advertising campaigns.
Where is it possible to access your competitors on such a vast platform?
You can find all the answers to your questions in the Facebook Ad library.
Suppose you are interested in finding the best performing ads in your niche, as well as detailed information about them. In that case, check out Facebook's Ad Library.
It allows users to browse through an ad library to find ads running across all Facebook products (including Instagram).
It is a free service for users, and users do not even need a Facebook account to use it. 
Using the Facebook Ad Library, you can learn about the latest offers and trends popular among their target audience.
You can target similar tactics in your own ad campaigns to increase your chances of getting more conversions.
Discover the people that matter to your business with Facebook Audience Insights.
Your ability to deliver meaningful marketing messages to people is better when you have customer insights.
Facebook Audience Insights, a tool designed to help marketers learn more about their target audience, includes aggregate data about geography, demographics, purchase behaviour, and more.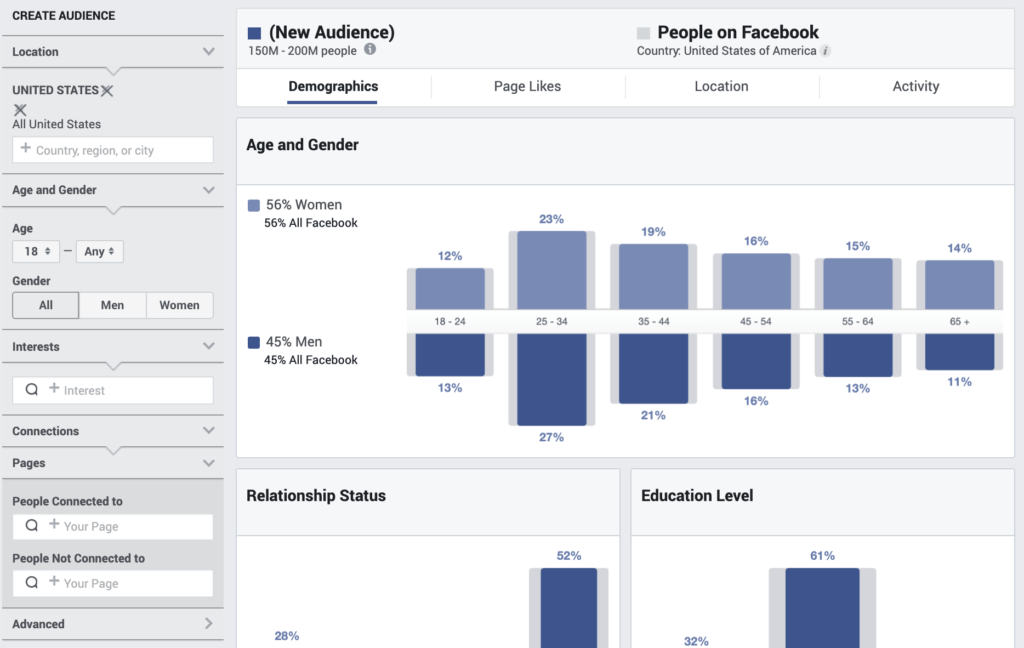 Audience Insights provides aggregated and anonymous information, including:
Demographics include age, gender, lifestyle, education, job role, relationship status, and spoken language
Page Likes are the categories and topics the audience is interested in
Location: the place where people live 
Activity: Ads clicked, comments made, promotions redeemed, devices used to browse Facebook, and more 
Facebook usage — How often do people in your target audience log onto Facebook, and what devices do they use?
Purchases activity — Past purchase behaviour (e.g., heavy buyers of women's apparel) and purchase methods (e.g., in-store, online
This information can be viewed by three groups:
Facebook users (the general Facebook audience
People who have connected with your business page or event
The people in Custom Audiences you've already created (the people already your customers
Audience Insights differ from Page Insights. This is because they observe trends about your current or potential customers across Facebook.
While Page Insights measures interactions with your Page (such as likes, comments, and shares).
Facebook advertising is an excellent way for businesses to find new customers on the largest social media platform in the world. 
You can find substantial demographic and behavioural data about your audience and your competitors' audiences through Facebook Audience Insights, which is free to use. 
Small businesses and marketers now have greater control over who Facebook displays their ads to, thanks to Facebook Audience Insights.
The right audience can be targeted, their interests and preferences learned, and targeted advertisements created.
For successful advertising, it's important to know who you're talking to and how you'll communicate with them.
Therefore, get on Audience Insights to learn more about your target customers.
Most marketing people are familiar with Buffer. The scheduling app is great for social media management for any business with limited time or money to spend on social media.
So when Buffer builds its own design app, you can use it alongside Buffer. It was a perfect match.
It is a mobile app, so it works with both Android and Apple devices.
Basically, using Remix, you can transform any link, tweet or story into a beautiful Instagram photo.
This is how it works:
Grab a link to any article, tweet or review: Remix converts the link into a shareable social media graphic that you can post to your social media pages.
Choose the size and style of your feed and your stories – there are over a dozen style options to choose between.
Now you may choose any colour or image as your background: any colour you like, any image you select.
Then you can share on Instagram (or wherever you live on social media), schedule social posts with Buffer, or save for your camera roll.
You can organise, collaborate, and share the information you care about with Microsoft Lists. 
Use Microsoft Lists, Microsoft Teams or SharePoint with a template, Excel file, or from scratch.
You can set up and reuse the list templates within the start options.
One pre-built SharePoint List template is Content Scheduler, which can be used for your digital marketing content. 
You can schedule and manage your content strategy with the Content Scheduler template. You can filter items due soon or receive notifications when authors check in on their drafts.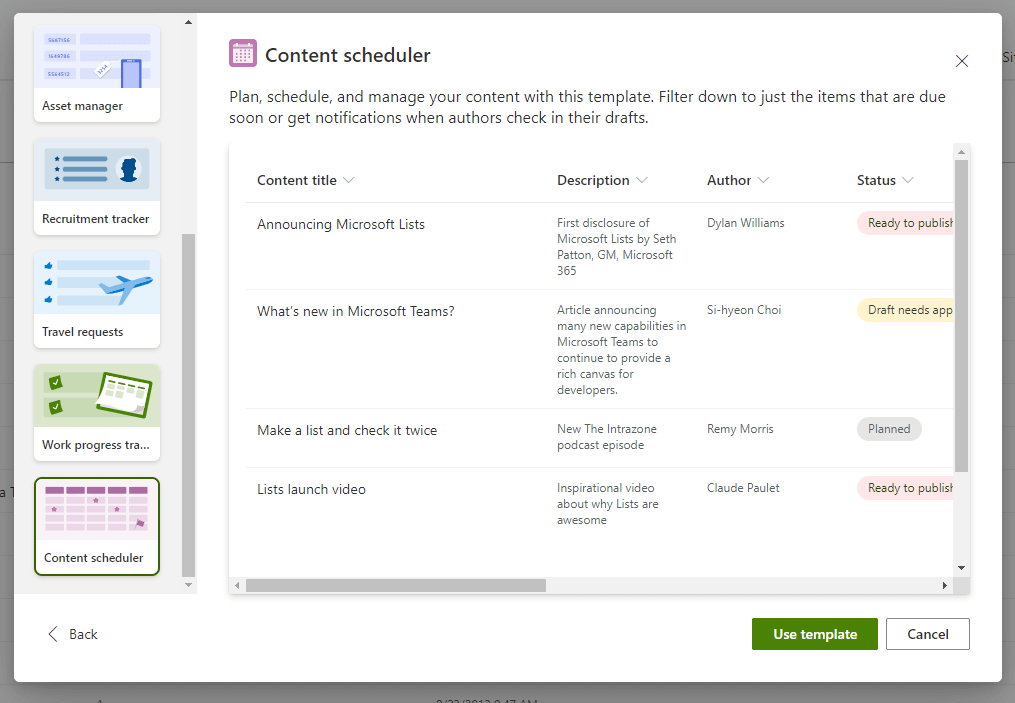 If you want to customise this list, add columns or drop-down options.
Power Automate, which integrates with Microsoft Lists to automate everyday tasks between SharePoint and Microsoft 365 services and third-party applications, is available for advanced users.
With Microsoft Power Apps, an application development environment, you can build custom apps for your business needs.
Customer Relationship Management (CRM) software-as-a-service in mobile apps and web applications.
With Capsule's CRM for small businesses, you can accomplish more in less time.
As a result, you will feel more organised, in control of your sales growth, and able to build stronger relationships with every customer, partner, and vendor.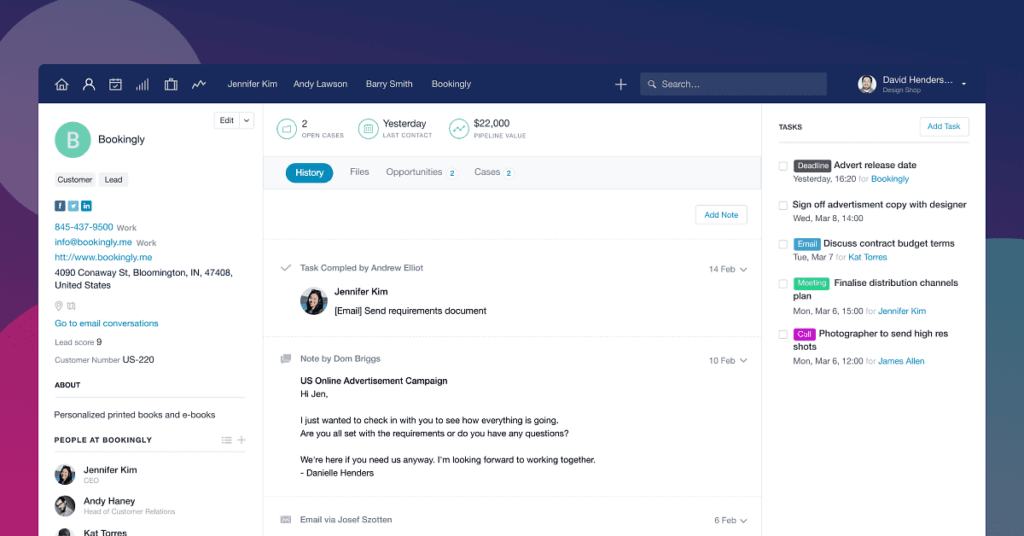 There are various CRM systems available. Still, they share the same goal – to help you collect, organise, and understand vital information about your existing and potential clients. This then lets you do more and improve business with them.
Capsule can integrate with several third-party solutions, including MailChimp, LeadInfo, Mad Mimi, MPZ Mail, to name a few.
You can start for free if you have fewer than 250 business contacts. In addition, as we mentioned with MailChimp, careful consideration must be given both before and as your business grows.
Alternative CRM solutions for small businesses could include Nimble, Freshworks CRM, Zendesk Sell, HubSpot, Pipedrive, ActiveCampaign, Zoho, Dynamics 365, Salesforce IQ.
If you need assistance getting started with CRM, contact us.
CoSchedule provides content calendars, optimisation solutions and marketing support for the marketing industry.
Over 50,000 marketers use a dynamic family of agile marketing management products globally. They can organise their work, deliver projects on time, and prove the value of their marketing teams with these products.
CoSchedule is suitable for businesses of all sizes. But it focuses primarily on organisations that run blogs or at least frequently update websites.
Its core feature is a marketing calendar for solopreneurs, bloggers, startups and small businesses.
Blogs and social media editorial calendars represent a cut-down version of the full product that caters to the needs of smaller companies.
Alternatively, CoSchedule's Marketing Suite can be subscribed to, or you can cherry-pick the components that best meet your marketing requirements. The Marketing Suite comprises four parts:
Content Organiser 
Work Organiser 
Calendar Organiser 
Asset Organiser 
Content marketing is at the centre of CoSchedule's Marketing Suite (and its Marketing content Calendar for smaller companies).
The more productive your existing team is, the more content you can publish and generate a greater ROI.
All content creation, social media messages, email marketing, and even To-Do tasks can be placed into a centralised marketing calendar.
From the CoSchedule blog and online resources, there's much to learn about how CoSchedule has grown and marketed its business. This is inbound marketing effort and accomplishment that is to be admired.
Using a simple Marketing Calendar, you can schedule blog posts and social media posts.
You can add many more varieties if you subscribe to the more advanced Marketing Suite.
They have a free version, so it's worth looking at.
For me, I'm trying to keep my content planning within my Microsoft 365, using SharePoint List, Planner, Teams and To-Do.
I'll take a few ideas away from CoSchedule and continue to be educated with their resources.
This is a tool to get insights into audiences and find the ones you're likely to target for your marketing efforts. Influencer marketing is one of the uses of this platform.
Audiense was originally called SocialBro when it was created in 2011. Back then I paid for it.
I stopped using Twitter after that, and I haven't used Twitter for maybe 8 years. We can't be everywhere…
But if you're a Twitter user, see how it can help your business grow, and be sure Twitter will help you get noticed.
In this case, you can see how it can benefit your business. Tools like Audiense, whose platform's algorithms crawl the entire social web for data, begin by taking advantage of what Twitter gives them. 
Twitter's data provides context clues to how its users are connected, along with the usual suspects.
Using artificial intelligence and machine learning, Audiense can decide who's connected to whom—through mutual followers, conversations, and more—and generate remarkably specific audience segments.
Second, Audiense stands out from the competition in what it does with those audience segments.
You can learn about your competitor's audience with various analytics and social listening tools. You'll learn a lot., interests and affinities, and begin developing campaigns based on what you think will appeal to everyone.
Influencer marketing became popular because of its low-cost and efficient way to reach audiences. 
In essence, influencers act as gateways to their followers.
Like most digital marketing platforms that find influencers, Audience understands this, but takes a different approach.
Audience data gives marketers a clearer picture of who they're trying to reach with their campaigns. 
Audiense is a perfect complement to any marketing or sales software ecosystem you might already be using.
Social media has become so much more difficult for marketers. They have to compete with their competitors and hundreds of other brands advertising on the same social media platform!
Adding to the difficulty, Facebook and Instagram change their algorithms (and privacy settings) almost every week, making marketing even more challenging. Not anymore.
Creative AI solves these problems by working behind-the-scenes to manage your brand.
Machine learning algorithms and natural language processing (NLP) techniques are used by AdCreative AI.
Users can quickly design and launch their own ads. There has been nothing like this.
As it's a self-serve platform, even small businesses can use highly-targeted, converting ads.
AdCreative.ai can analyse the content of a page and generate ads based on it. AdCreative.ai can create a set of advertisements that link to a single landing page from multiple pages.
Using hundreds of thousands of data points, the platform accurately predicts the best possible ad creative based on targeting parameters (location, demographics, interests, etc.).
Campaign goals include (e.g., app installation, form submission, lead generation, etc.).
These predictions are based on thousands of data points and verified by real-world performance across a wide range of industries and campaign goals.
By replacing the human factor with artificial intelligence, AdCreative.ai helps businesses and agencies create better ad creatives.
You will not have to rely on a subjective opinion.
Instead, you'll receive design recommendations based on what will convert your target audience into customers!
Artificial intelligence is being used by many brands and businesses to improve their marketing efforts.
This technology improves ad creative, user interfaces, and even customer experiences.
With this new and innovative software, you can efficiently create the best possible ads to help market your small business.
Where are you hiding if you've not heard of or used GTmextrix?
Ok, maybe that was a little harsh. If you're a web designer or website owner and haven't heard of GTMextrix, where have you been hiding?
With GTmetrix, you can analyse and optimise your site's performance by looking at different performance metrics related to website speed. Different browsers, network speeds and locations can test your site's speed. Lighthouse, Google's automated tool for improving site performance, powers GTmetrix.
Grades from GTmetrix provide an idea of your site's performance, including loading time, visual stability and interactivity.
This performance combines your site's frontend structure and actual user experience.
The free plan at GTmetrix is complemented by advanced PRO plans. 
We use Gtmetrix here at Dynamics Tech with our own website builds, client builds, testing new themes, and use them for web design opportunities.
In GTmextrix, information is presented in a way that makes it easy to see what's working with your website and what isn't.
Fixing something is always the most challenging part, am I right?
I recommend you do the test at least 3 times.
You should then be able to test directly with Google's PageSpeed Insights, Web.dev, and Pingdom Speed Test.
After running the test, maybe our WordPress Support can fix the issue if you're unhappy with the results.
Bitly is a URL shortener and link management platform. 
Marketers and content creators have access to many tools and applications that can help them produce more quality content, including link shorteners.
It's handy to use link shorteners, whether you're writing a blog post, marketing email or YouTube video description.
Many links are long, wordy, and appear messy, but they are essential for search engine optimization.
Sharing links in emails, web pages and social media is helpful, but they're lengthy and difficult to share.
Short links are perceived as trustworthy and appear less spammy and suspicious to readers and prospects.
A link shortener tool can help with this… They allow users to shorten and "clean up" lengthy URLs.
Using the best link shortener tools, users can:
Reduce the length of links
To make them more branded/customised
Track the performance metrics for each short link
and reduce the number of characters
It is likely that when you think of a URL shortener, Bitly is the first tool that comes to mind.
Bitly is extremely easy to use and offers various other features, making it the perfect tool for marketers.
Bitly is far more than just a link shortener. It provides users and marketers with the ability to create custom and encrypted short links.
You can review data and analytics related to the number of clicks with your Bitly short links. You can integrate Bitly with other tools and apps, such as social media and other digital marketing dashboards. 
Example – https://bit.ly/3r1Pb46
Here at Dynamics Tech, we've used Bitly for years.
There are other URL shorting services like TinyURL and BL.INK, but for some reason, I just remember to type Bitly into Google when I need a short URL.  
Creating UTM codes to track clicks back to your Google Analytics for marketing is extremely helpful.
Within Bitly dashboards, they have basic reports, and paid users can access dashboard campaigns or build custom links.
I've never needed more than the free version, so may that continue? 
Hashtags are keywords or key phrases preceded by the hash symbol. There is no need for spaces. They can include numbers, but not symbols or punctuation, and can be inserted anywhere within a social media post. This allows social media networks to index your posts. 
The main social media platforms that use hashtags are Twitter, Instagram and Facebook. However, I don't enjoy seeing hashtags within Facebook posts. It seems unnatural and desperate for engagement.
#differentdigitialmarketingtools
However, you don't always know what hashtags to use when running a marketing campaign. 
Ritetag can help here.
According to Ritetag, they can help their clients find relevant hashtags for their industry.
Ritetag says they can help you choose the right hashtags for your content if you don't know which ones to use.
You can organise your hashtags into different categories based on the content you upload, with Ritetag's hashtag suggestions for texts, hashtag suggestions for images, and tag sets.
In other words, you can get hashtag suggestions uploaded and you manage your social profiles.
Your campaign, service or product launch can be made or broken by your chosen hashtags. 
Hashtag generation can be integrated directly into your workflow as a standalone product. 
Create hashtags for Instagram and beyond. Works with text and images. Includes web and mobile apps. Combined, browser extensions and mobile apps provide hashtag suggestions for 1000 search queries per month.
Another choice would be MetaHashtags, which is a competitor. Flick.tech is another Ritetag alternative that helps you find, manage, and analyse your Instagram hashtags. 
Additionally, they claim to help you grow your Instagram account in general and increase the reach of your business.
Instagramer is another excellent marketing tool for Instagram. 
That said, there are many more you can find, and you should take advantage of any free trials you see.
Good luck growing your Instagram profile!
ActiveCampaign is a serious tool for marketing.
Businesses of all sizes can execute campaigns, automate sales and marketing processes, and measure their impact with CRM and marketing automation tools.
With ActiveCampaign, you can put your marketing and sales on auto-pilot and make sure there are no missed sales contacts.
Create a sales and marketing machine for your business with this CRM application that includes built-in automation and lead scoring, so you can focus on running your business. 
By using marketing automation software, a company can implement the most relevant communication for each customer based on the company's goals and customer data.

Dynamics Tech is partnered with ActiveCampaign, possibly the best marketing automation system on the market at this price point.
To put it simply, ActiveCampaign wants to be more than just an email marketing platform. 
ActiveCampaign's marketing automation plans come packed with features that make them the perfect complement to your existing marketing tools and infrastructure.
With 125+ email templates to choose from, you can always start from scratch or use a very minimal template if you prefer. 
Like many other email marketing tools, the actual email builder/editor is a simple drag-and-drop experience, with pre-defined content blocks that can be arranged in any order.
The email content can be tailored to a great degree with personalisation tags. You can use conditional display tags to show or hide specific content blocks based on the email recipient.
It is possible to do A/B testing, but the options are limited if you already use other well-known A/B testing services. 
Contact lists can be created, managed, and customised.
You can create lists of contacts that dynamically update based on changing conditions using segments.
It has a good landing page builder and is better than most. Though the landing pages and email builders look different, they work on the same drag-and-drop principle.
Automation is where this tool shines.
With ActiveCampaign's automation tools, you can easily define a process that happens automatically.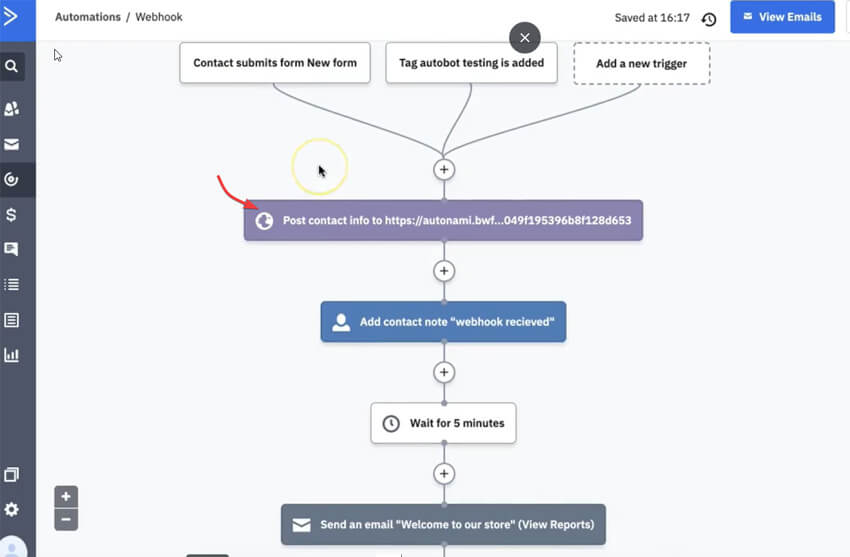 More than 200 automated templates are available if you don't want to design a process from scratch.
There's a good chance ActiveCampsign can integrate with other applications. You can build even more bespoke integrations with your business tools, with tools like Zapier. In total, there are over 850 pre-built connectors.
Marketing is impossible without statistics. Reports can be generated through email campaigns, automated workflows, contacts, and even self-defined goals in ActiveCampaign.
You can set marketing goals in the admin interface, and you'll get reports on whether you've met them, just like Google Analytics goals.
We recommend ActiveCampaign as one of our top choices for email marketing services.
This is because it offers hundreds of beautifully designed templates and visual automation maps, and it's suitable for everyone, no matter their experience level.
Marketing professionals who need high-level automation features and leverage machine learning should consider ActiveCampaign. 
It has lead scoring, win probability, and eCommerce features, so it's a good choice for sales teams.
However, don't let the thought of it being suited for marketing professionals discourage you. It's our job to make sure you get the most out of your ActiveCampaign products and services and be your trusted advisor.
Automation, email templates and campaign execution can be built by us.
Users can create high-quality content with Thundercontent, a writing tool powered by AI. This writing tool differs from its competitors because of its artificial intelligence.
While most writing tools only support GPT-3, Thundercontent A.I. combines GPT-3 with its own code and technology from OpenAI, AWS, IBM and Google to make it even more powerful!
Besides generating content for blogs and long articles, a voice cover (audio generation) can turn generated audio into a human-like voice.
With Thundercontent, you can easily generate thoughtful, high-quality articles, blog posts, blog titles, or outlines relevant to any topic you choose.
Jasper is the most well-known product in the AI writing industry.
Along with ThunderContent and Jasper, there are Copysmith, Copy.ai, Anyword, Writesonic, Rytr, WriterZen, WordAi, StoryBlocks, ShortlyAi and QuillBot.
If you're interested in these tools, I suggest you start with a few trials and see which ones work best for you.
By using the push notification feature of Gravitec, you can automate campaigns and bring more traffic to your website.
You may have seen these features on certain websites before. The web page displays a small pop-up at the top of the browser, asking if you want to receive notifications.
Well, Gravitec is the tool behind this, so it's a great way to get this kind of tool on your site. I might also consider including something on our site since I'm well aware of the power of push notifications when developing mobile apps.
Push notifications are a great way to connect with your customers, ask for feedback, stay on top of them and let them know what's going on with your product.
Gravitec features that enable you to get more web traffic, more subscribers, and streamline your marketing campaigns. 
You can use drip campaigns to notify your new subscribers. You can gather articles for your new subscribers with this feature. Your subscribers will be loyal to you as a result.
Daily/Weekly News Digest – a feature called Push Digest compiles the most popular news. You can send up to ten top stories each week.
Using your RSS feed, you can automatically send push campaigns.
Permission Prompt – Choose the location, appearance, language(s), when to display them, and different settings for desktop and mobile.
You can communicate with your subscribers using this feature. It will boost your engagement and earn their trust and loyalty.
The targeted campaigns feature offers basic and advanced segmentation options based on the user's browser, OS (operating system), language, city and country.
Promote your advertiser's content and increase paid subscriptions.
Campaign Reports – Online charts that show you important stats from your push campaigns, so that you can evaluate how effective they are. Individual campaigns, campaigns set up for a specific period, opt-outs, and subscriptions are available. 
Those with fewer than 10,000 subscribers can use the Free option. 
The offering is only available to a single user, unlike the Business offering, which can host unlimited users. 
Personally, I've always liked the idea of push notifications. Therefore, I was excited to try out one of Gravitec's push notifications and look at how this can help clients.
IFTTT (for "if this, then that") is a free web-based service to get your apps and devices working together.
IFTTT connects over 450 apps, including Facebook, Twitter, Instagram, Google Drive, Gmail, and many more!
What's great about IFTTT is that you can use it for your business apps. Still, you'll likely use your personal apps and services, like with Amazon Alexa, Sonos, your bedroom lights!  
Maybe if you start with your personal connections, you will see how it could improve how you work.
IFTTT is a product I had used many years ago. A few connections still work today, including sending a Happy New Year message every year via Facebook at 12:00am. Sad but true.
As a business owner or marketer, understanding how tools like IFTTT and Power Automate can help improve how you work.
It's a great way to grow, get more work done, and outshine your competitors who aren't up to speed with this technology because it's not going away.
It's just getting bigger with the Internet of Things (IoT).
Topical Relevance SEO offers the perfect solution to building topically relevant pages that rank highly on Google.
With Topical Relevance, you can discover LSI (Latent Semantic Indexing) keywords popular with your seed word or topic.
It helps Google understand the page's topic when you use LSI keywords in your blog posts.
This is because you have covered the relevant related keywords on the page.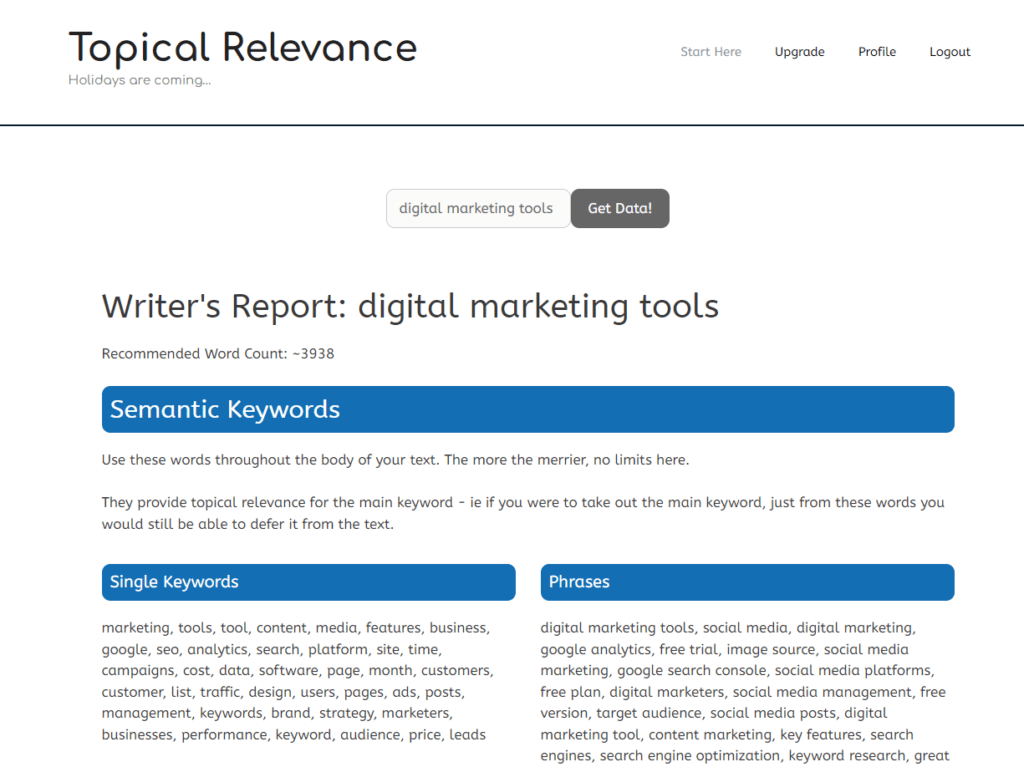 I used the seed keyword "digital marketing tools" when I tested the tool as I wrote this post.
There is a recommended word count, and I should use these keywords throughout the body of the post.
Single keywords included
marketing, tools, tools, media, content, features, business, platform, analytics, SEO, Google, listing, software, search, campaigns, data, time, site, customers, page, management, marketers, traffic, posts, design, thanks, brand, customer, strategy, keywords, businesses, users, pages, post, sales, team, Facebook, keyword, ads, video.
Whist phrase keywords included
digital marketing tools, best digital marketing tools, social media, digital marketing, Google analytics, social media marketing tools, SEO tools, image source, digital marketing tool, social media platforms, digital marketers, Google Search Console, social media management, free trial, free plan, marketing tools, key features, social media posts, free version, great tool, small businesses, great list, social media accounts, social media campaigns, content marketing strategy, top digital marketing, mandy McEwen glad, marketing strategy, SEO strategy, target audience, marketing team, digital marketer.
This tool has an advanced scheme generator that turns frequency entities into "about" and relevance entities into "mentions". Thus, feeding Google with the information is necessary to fully understand your page's topic.
This SEO tool is free and easy to use compared to many others. 
Taking part in TimeCamp will help you and your team better understand how you and they use their time. You can see how this impacts your employees' productivity by frequently switching between projects and clients.
You can more easily and accurately track billable hours for clients and projects, and send invoices from the same system (if you have TimeCamp upgraded).
Suppose you're a marketing freelancer, for example. In that case, you can use TimeCamp to self-correct any distracting habits and use your time more efficiently (and profitably).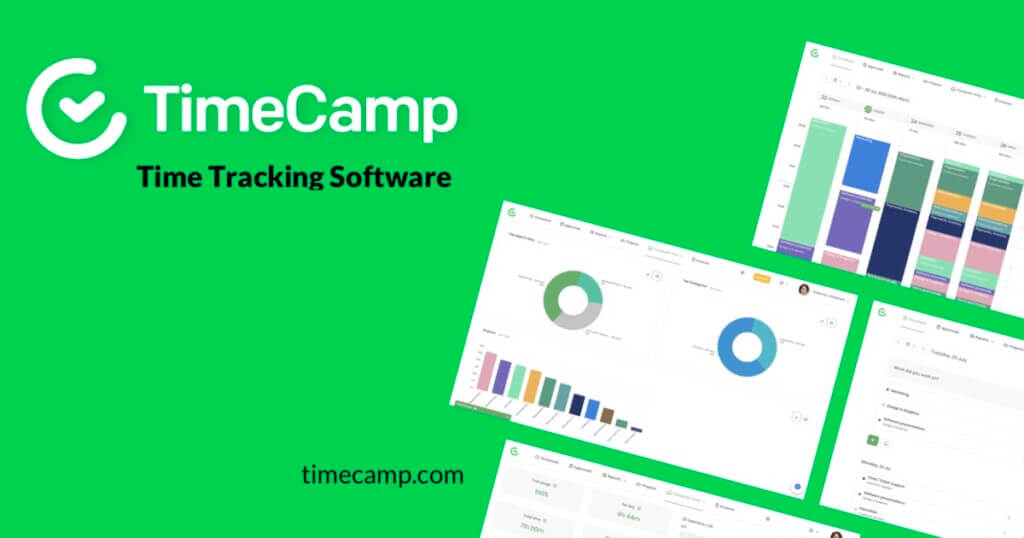 As an added bonus (if you're willing and able to upgrade), you can directly invoice clients with the data on your hours worked.
QuickBooks and Xero are several popular accounting tools integrated with TimeCamp. You can keep track of clients and their marketing budgets when you connect these systems.
Your team's time is visible in TimeCamp's reports. You can track your time with the client, project and task to better understand where your time is spent.
TimeCamp is more of a self-managed time-tracking tool.
It does not offer traditional scheduling or the ability to clock in via a conventional time clock (the only data you are recording is your total time spent at work).
TimeCamp's tracking tool records the URLs and apps you've visited during the day, while tracking the time spent on tasks and projects.
If possible, keep track of your time and bill clients appropriately. That's my advice to small business owners. I know I have done projects that took too long, so project-based cost is not the same as an hourly rate. I guess it depends on what you deliver.
Consider When I work, Hubstaff, Clockit and Clockshark as alternatives. 
In the case of contractors working on several projects, you need to keep track of how many hours they spent on each project.
TimeCamp is a simple solution to this problem.
Do you use WordPress as your content management system? Or maybe you can build WordPress sites for clients?
If so, I highly recommend Rank Math as your SEO optimisation plugin.
Rank Math has clearly established itself as the most popular SEO plugin for WordPress websites.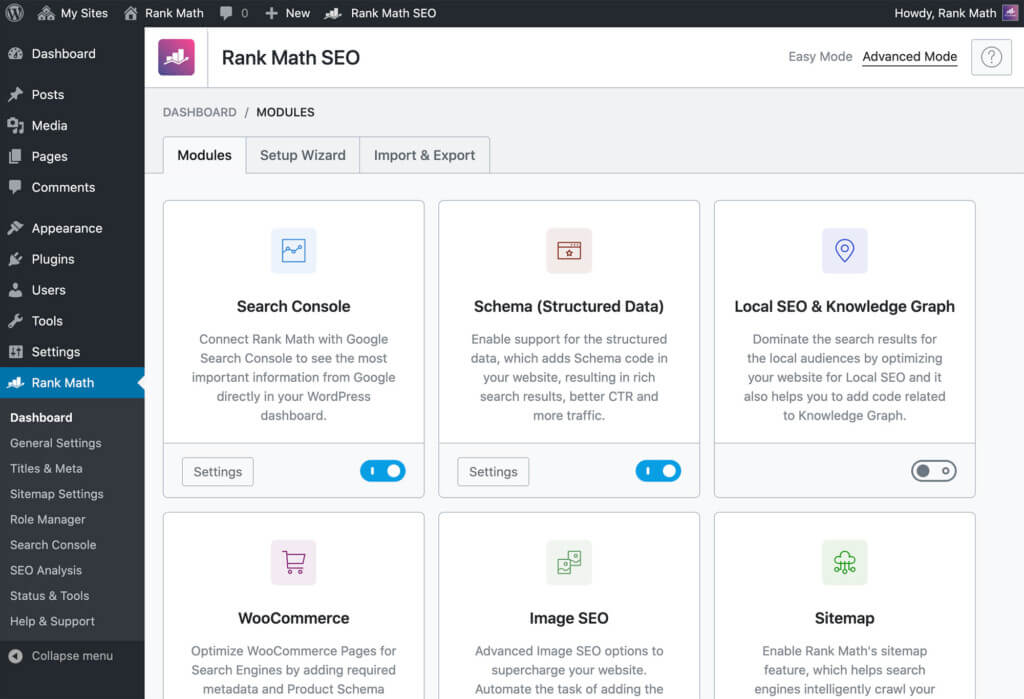 With over 1 million active users, and at the time of writing nearly 4,000 5-star ratings on WordPress.org.
Despite its relatively new tool, it has rapidly outperformed its competitors thanks to its many intelligent and powerful features.
Content SEO must be done correctly to grow consistent traffic from search engines like Google.
However, beginners may find it overwhelming to do it independently.
In contrast, Rank Math's intelligent automation features give you the power of an entire SEO team at your fingertips.
Before Rank Math, I used YoastSEO, which isn't terrible, but Rank Math feels better and has a few more features.
For new WordPress clients, we now use Rank Math. Rank Math Pro is recommended for clients who benefit from its advanced features.
We switched our live client sites from Yoast to Rank Math, so it's being considered across all sites unless the client objects, which none have.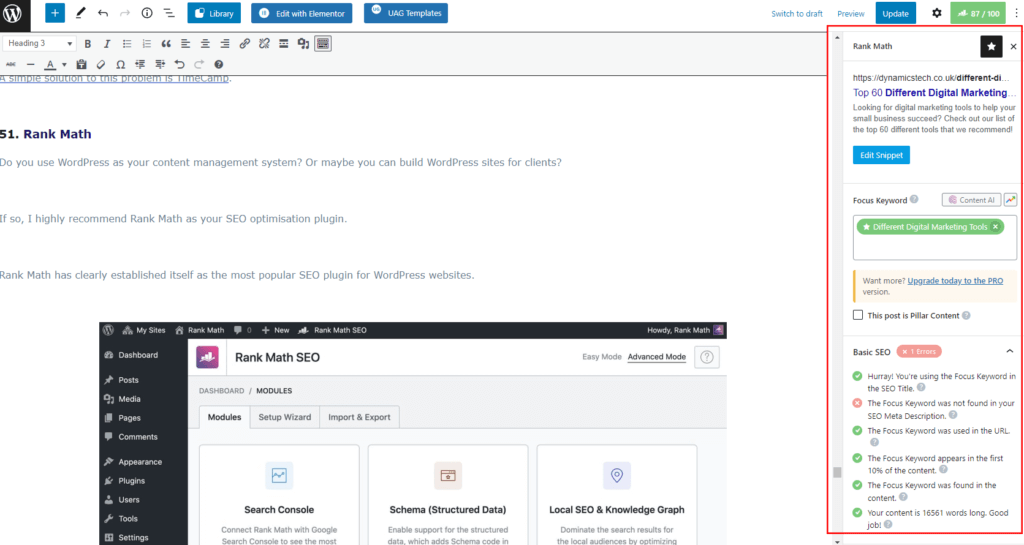 I've used Rank Math for the better part of two years now, so I'm familiar with how it works.
Those who run websites or online businesses are familiar with SEO, traffic, optimisation tools, website ranking, etc. Search Engine Optimisation (SEO) is the first thing you do to grow traffic to your website.
To get a high ranking on Search Engine Results Pages, you must know how to use SEO techniques appropriately.
You can do it yourself, but it may take time, effort and money. And even then, you won't be sure you're doing everything right. 
When that happens, you need an SEO tool that can automate everything for you. Rank Math is one of the most trusted WordPress SEO plugins that offers SEO services to website owners.
Rank Math has the best built-in features to analyse your website performance, detect all the issues your site is experiencing, and then provide solutions to optimise your site.
With its advanced and super effective features for ranking a website, it has been recommended by top professional bloggers and SEO websites around the world.
I have optimised my website content in terms of SEO and rank higher in search results. You must use Rank Math to optimise your website for SEO if you want to drive more traffic to your website.
20,000+ companies trust Wrike's project management software.
Create a streamlined digital workplace using custom request forms, Kanban boards, Gantt charts, time tracking, real-time updates, and performance reports in one place that can be shared within the organisation.
If you're an agency, marketing team or professional service provider, Wrike is an easy decision. The features it offers are unique and can't be found anywhere else. Because of its versatility, it is an excellent choice for large organisations.
This is especially true for those who want to use it across multiple departments to maximise the software's benefits (and its price tag).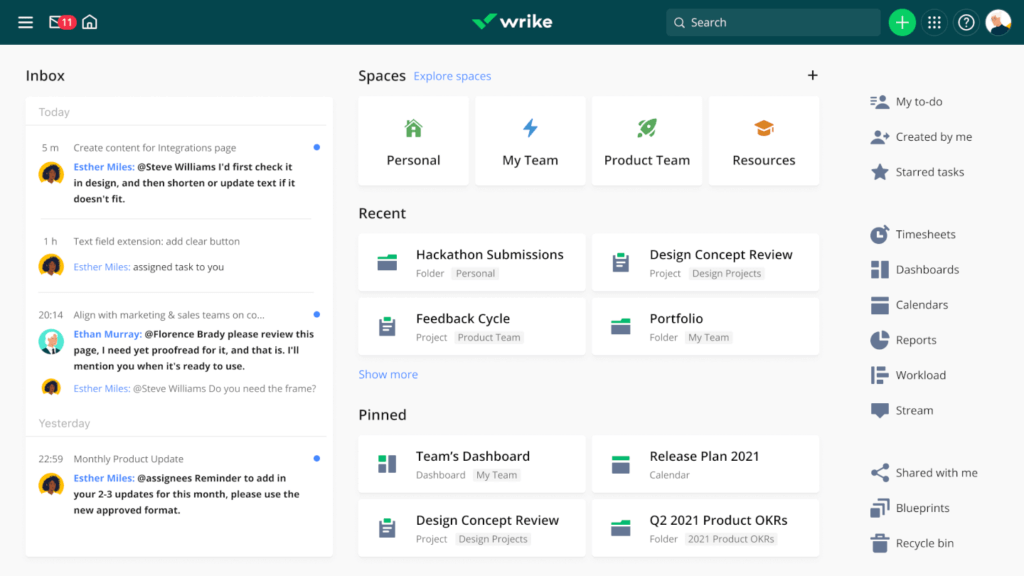 Beginners may find it challenging to navigate through and figure out Wrike.
We like the dashboard and enterprise-level features Wrike offers. Still, people who are new to the world of project management software tools may find it overwhelming.
With Wrike, you can use enterprise-level project management tools that are easy to use.
Additionally, the advanced features will prepare your business for future growth, while letting you and your employees become familiar with them before you have to use them.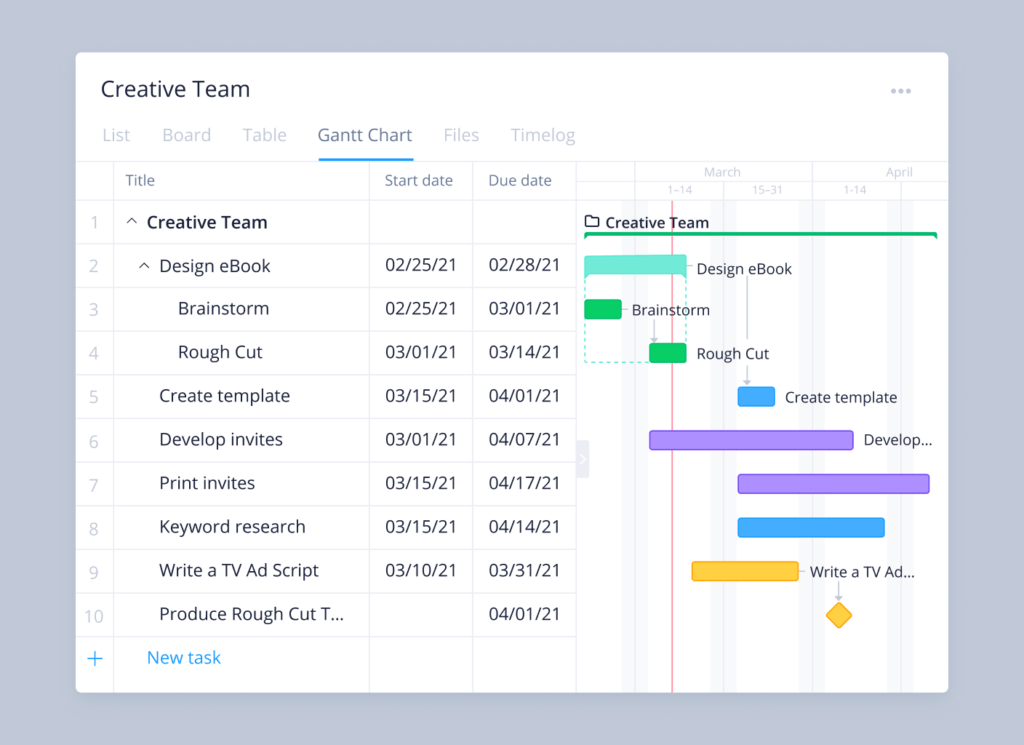 SAML-based SSO with Wrike allows users to log in and access their workspaces with one set of credentials.
Wrike and Teams integrate seamlessly, allowing you to search for tasks, manage tasks, and share tasks from within Microsoft Teams.
To meet the needs of marketing and creative teams, Wrike offers custom packages. The software handles the entire marketing project lifecycle within a single collaborative workspace. 
Through Wrike, you can gather and analyse marketing performance data from 50 digital platforms, including Facebook, Instagram, and Google.
Take advantage of marketing-specific project templates and tie them with your projects and tasks.
Wrike for Marketers provides the following features:
All the features of the Wrike Business Plan
Wrike Proof add-on
Wrike Publish add-on
Adobe Creative Cloud Extension
Templates and workspaces tailored to marketing
In addition to the features listed above, the plan supports integrations with Salesforce and Marketo.
You'll also benefit from data integration across digital campaigns, such as social media, search and search engine marketing (SEM). 
As a project management tool, Wrike is an excellent choice. We use Wrike. We've tried both the free and paid version, and it depends on how many projects or staff you have at the time.
It's pricey and not suitable for beginners.
Still, it's perfect for marketers, agencies and organisations that want an advanced tool with enterprise-level functionality.
It is flexible enough to accommodate a wide range of project management needs, including small businesses.   
Unless you have your own photography studio, there's a good chance you will use stock images in your web and graphic design projects.
Over the years, I've switched between different photo stock websites for sourcing images for projects, but have recently been using Adobe Stock more and more.
Designers and businesses can use Adobe Stock to access millions of high-quality, curated, royalty-free photos, video vectors, illustrations, templates and 3D assets for their creative projects.
To be honest, there are better filter options available on other sites to fine-tune what you are looking for.
I don't know about you, but I spent countless hours searching for that perfect image for a project. I'm trying not to be so pedantic and picky nowadays.
Finding stock images, graphics and videos is one of those hidden costs, not only per image, but also in time.  
Images can be searched by content, colour and composition in Adobe Stock; genre can search audio, mood, vocals, partner and tempo. Find Similar and Audio Find Similar can refine results.
Search, preview, and licence Adobe Stock & Marketplace's creative assets, 3D content, fonts and plugins inside your Creative Cloud apps or directly online.
There's a price plan to fit your needs, whether you use assets regularly or occasionally.
Shutterstock, Dreamtime, Getty Images, iStock, Stocky, BigStock, 123RF, Alamy, MotionElements are among other popular stock sites
If you own a local business that offers products or services, you need to be visible online to potential customers. They search on Google Maps, Search, Mobile, Google Business Profile, Bing and Bing Local.
You can get a complete overview of your Local SEO & Google Business Profile performance using our free Local SEO Audit tool. This includes Search Rankings, Local Listings, Reviews and Social Media.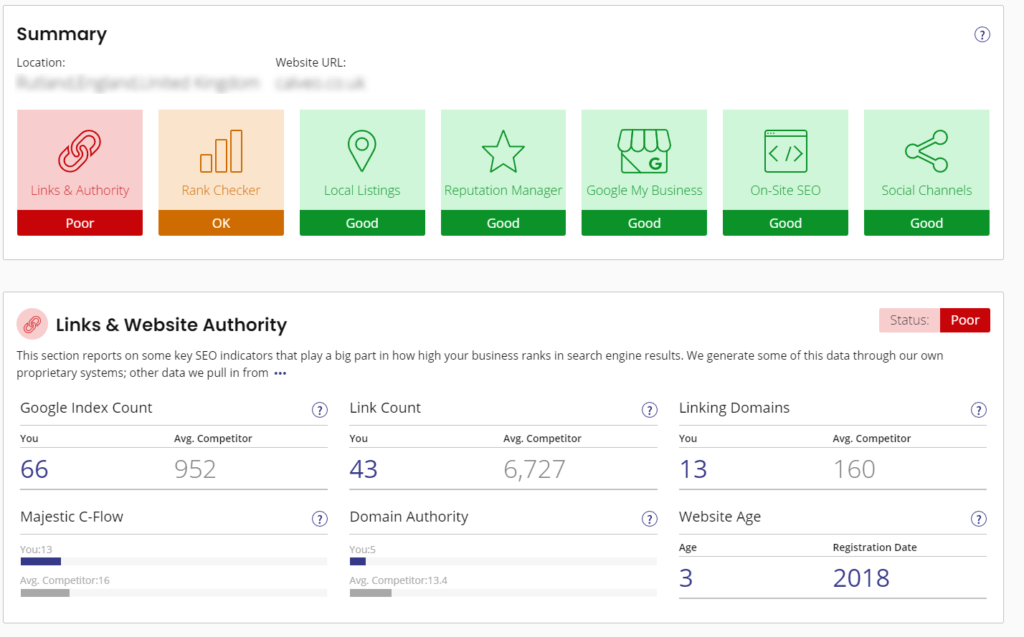 Type in your business name and it will appear on the list. To match your company profile to the free report, we search the Google Business Profile directory.
If your business is not listed or unable to locate it, add your business name. Click the Get Your Report Now button and fill in the form on the next page.
To create the best report for you, we need to collect your business name, address, phone number, website URL and email address. Click Create My Report to proceed.
We crawl through your website code, aggregate citations (directory listings), read your reviews, check your business categories and mention other mentions of your business.
This includes looking at your closest competitors and finding your social media channels.
Find out what keywords your website and Business Profile rank for on Google.
The SEO report will be emailed in PDF format.
We can help if you don't have a Google Business Profile listing or Bing Places account for your business. Or don't know where to start.  
If you've been around web design for many years, then you might be familiar with Paletton.
The online colour utility was first made in 2002 under the name Color Schemes.
It was later redesigned and rebranded with a new UI in 2014 to Paletton.
With this programme, you can create colour combinations and palettes of colours that work well together. 
Paletton uses the classical artistic colour wheel and uses a specially created RYB colour space, rather than the modern computer and engineering RGB colour space. 
Thus, it produces colour combinations different from those you can get from many computer graphic applications. 
To be honest, I haven't looked for a modern AI competitor version, so maybe I should.
I used Adobe Color CC a few times, but I always went back to Paletton for its simplicity.
Any other recommendations are welcome.
Pixie by Nattyware is a tool for webmasters and designers. Basically, it's a colour picker with a few extra features.
It's a tool I've had on my Windows PC taskbar for many years, and something I use most days.
I've tried other colour pickers, but Pixie is free and was always quicker at doing the job.
Although recently, I have had a slight issue I can't solve. I usually do a Ctrl + C to copy the colour HTML when using Pixie. Still, it doesn't work, and I believe that's more to do with something else that might be in control of that keyword shortcut action.
But Pixie allows me to change the keyword shortcut. Still, it doesn't save. So, I have to change it each time. This is beginning to grate on me. Especially considering the number of years I've used the tool and how often it gets used.
So, any tips on that fix are welcome.
To use it, just point it at a colour, and it will tell you its hex, RGB, HTML, CMYK and HSV values. These values can then reproduce the selected colour in your favourite applications.
We offer our GBP Command Pad platform for local businesses that want the best visibility of their Google Business Profile.
We use it internally to manage client Google Business Profile accounts.
This includes scheduling postings and photos, embedding and injecting Exif data into images for Google, managing GBP Question & Answers, updating business hours or contact details, and tracking progress with your local present's efforts with monthly reports.
This can be used for Google review management, with enhanced notifications, daily reviews, and call tracking for any location.
Spread business information across a wide network of websites, advertisers, GPS apps, voice response devices, and more.
Get more shoppers into your stores by listing your products on Google.
Providing Google with an inventory feed off in-store products is the best way to find local product searches. We make it easy for your local inventory to be shared with Google.
Whether you write your blog headlines, whether you use WordPress or Wix, you can improve them with CoSchedule's Headline Studio.
You can now rest assured that the headlines you write will also drive maximum traffic, engagement and SEO rankings as well.
By clicking the Headline Studio button, you can access any website where you want to analyse a headline, such as your WordPress blog post.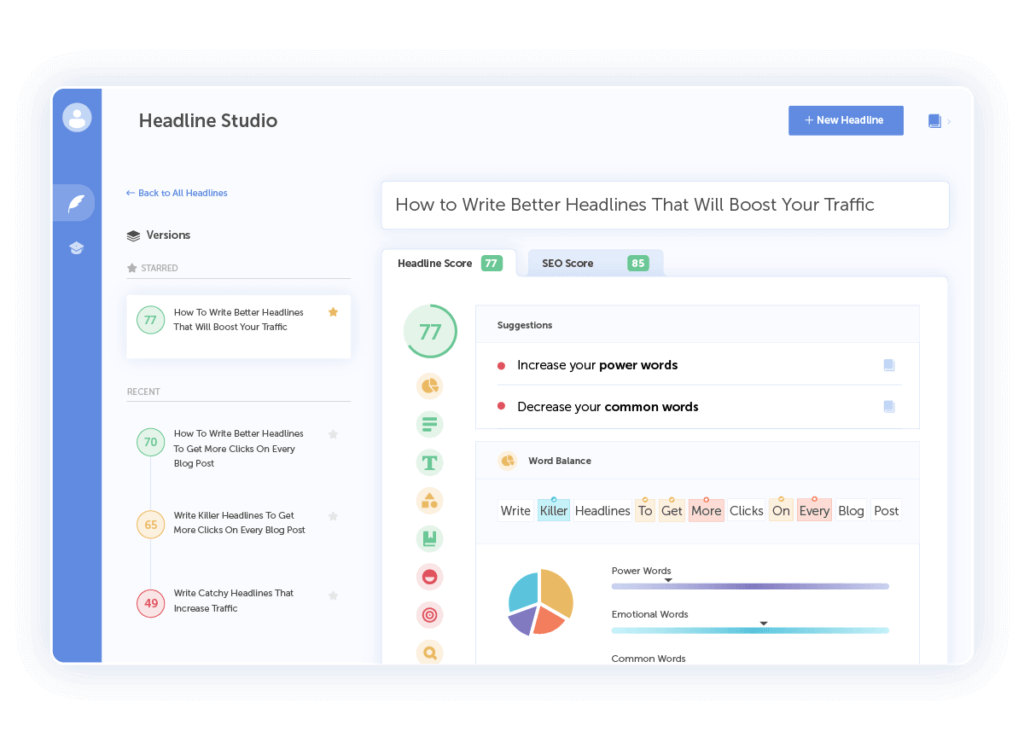 You can write and analyse headlines side-by-side with the Headline Studio extension, which opens in your browser.
You can instantly score your headlines. Using an algorithm, you can analyse your blog titles 10x faster. Based on proven data from 4+ million headlines, see which types of changes will improve your score.
Improve your headlines based on proven data.
You'll learn how to write better headlines with actionable suggestions that will improve your headline score immediately. Ensure your headline is written to drive maximum traffic.
Beat the competition! View the top-performing headlines that compete with yours in search engine results. Learn how your headline stacks up to the competition.
Take a look back at previous headlines to see how they compare.
You can easily find, tweak, or reuse past headlines that have performed well.
Find new ideas. With Headline Studio, you can access powerful and emotional word banks and a full dictionary.
Increase your score by finding word definitions, synonyms and alternatives.
CoScCoSchedule is a marketing product line that helps marketers get more done in less time.
With Zapier, you can automate tasks between different apps.
For instance, Zapier works with Gmail and Google Drive. Zapier can be configured to save every email you send to your Gmail account to Google Drive or download an attachment from your Dropbox folder to Google Drive.
Zapier is used by over 1 million users use it for nearly 2 million zaps monthly! The time users save with Zapier can be invested in more important aspects of their businesses.
You can use Zapier to automate your company's day-to-day processes.
Zapier also uses popular applications like Basecamp, Facebook, Square, Trello, Twilio, and Xero, which you may be using.
Many of the most popular apps are compatible with Zapier.
Through its SERP Analyser and SEO tool, thruuu can be used for content marketing projects.
Scrape Google SERP (Search Engine Results Page) for any country, location, or device.
thruuu analyses organic pages, including paid results, questions, related searches, videos, images, local packs, knowledge graphs, and featured snippets.
Having access to all this information is extremely helpful when planning and researching keywords for content marketing projects or auditing competitors.
Through thruuu, you can analyse the most important topics and frequent terms on every page of Google search results page.
Why would SEO Experts and Copywriters use thruuu?
Understand the SERPs in one place
View SERPs in any country, language, or location
See how competitors' pages are structured
Gather keywords
Compare top rankings
Create content optimised
Extraction of on-page data
Understanding local and international markets
Comparison of desktop and mobile SERP
Page Performance and Core Web Vitals
Check Domain authority
Analysis of search and user behaviour intent
To come up with content ideas
Create content briefs and outlines
Analyse titles, headings, and content
Create content for the next piece
Calculate the average word count
Determine intent and content gaps
So, you can write better
To save time
Because it is user-friendly
The information might seem geeky to someone who isn't into search engine optimisation, but what I admire most is Samuel Schmitt's ability to educate you with his well-written blog posts. 
I highly recommend you check them out, especially if you are interested in learning about Topic Clusters. 
thruuu is also a credit-based system, meaning you only pay for what you use, as opposed to a subscription model, so you aren't tied down.
60.

Read Aloud (features in Microsoft Word, Edge or Outlook)

OK, not a digital marketing tool as per se, but a feature within most Microsoft 365 apps. Includes Microsoft Word, Outlook PowerPoint, OneNote and the Edge Browser.

 

It's a feature, but worthy of a mention, and is last on this list for a reason.

 

I find this feature super helpful when completing blog posts or webpage copy.

 

Read it out loud!

 

Microsoft Word's read aloud feature lets you listen to your document in real-time, while highlighting text as it is read. 
You can use Speak to have text read aloud in the language of the Office product you are using.
Your computer can read written text back to you as spoken words using text-to-speech (TTS).
You can choose to have it read aloud in male voice, female, American or British accents, among others.
Personally, I prefer the voice on the Edge Browser compared to Word. 
You can use the Read Aloud feature to keep track of your favourite content hands-free.
This handy little trick in Microsoft Word will help dyslexics, visually impaired people, and auditory-visual learners.
The read aloud feature reduces eye strain, since you don't have to stare at a screen. Here is a solution for those who love reading but hate the eye strain.
It's last on our list, because when I complete my copywriting, one of the best ways to recheck your work is to listen to it.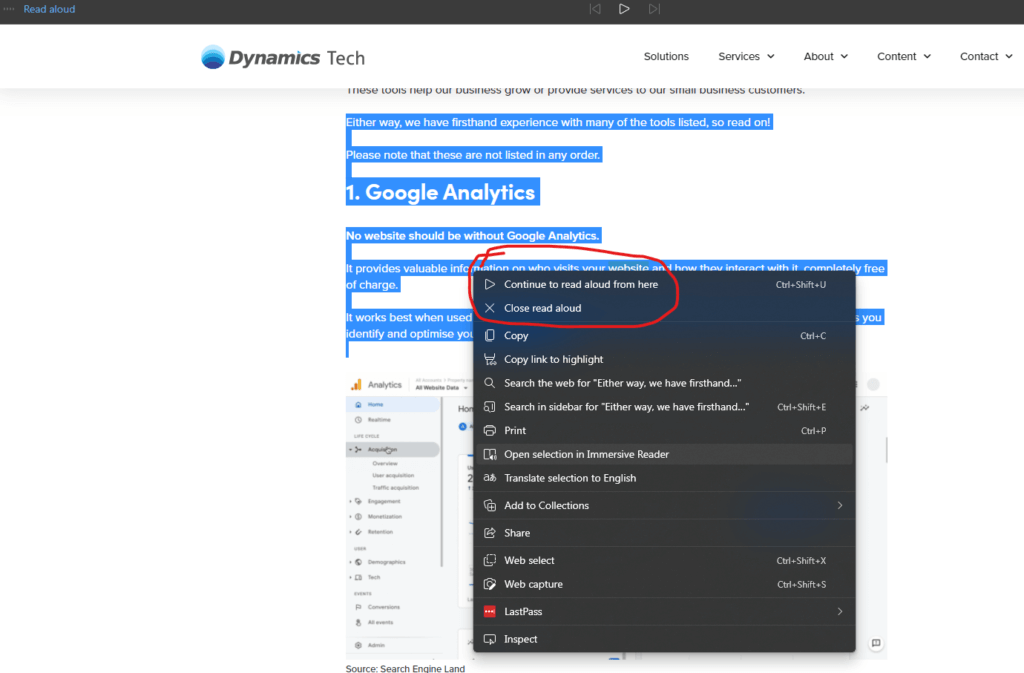 As part of my process, I have read it aloud as one of the final tasks within my blogging workflow process.
Reading the copy back in your head is normal, but hearing it out loud is different. You can easily spot errors or understand your paragraph structures better before you finally push publish for the world.
How about going through your emails while travelling back and forth from work, either in the car or on public transport?
Microsoft has a feature called Play My Emails for Outlook Mobile, just as it does for emails.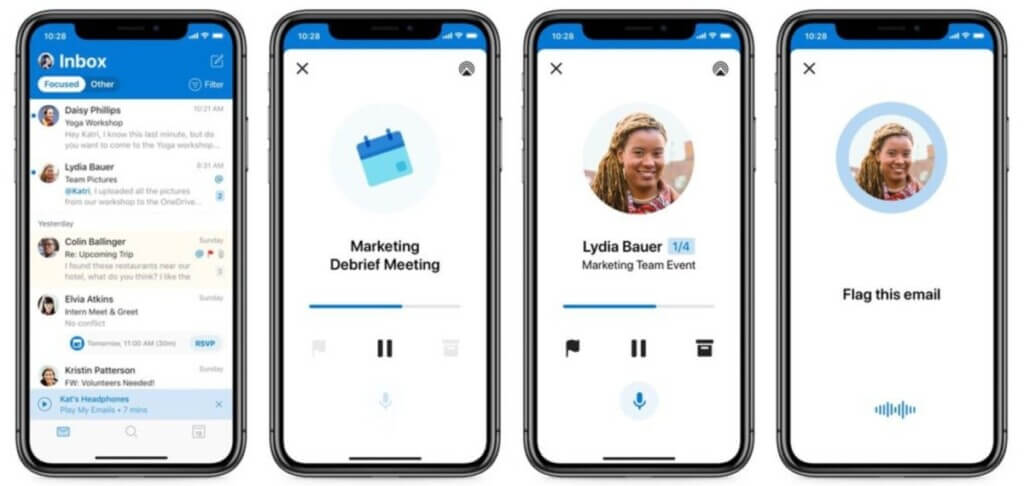 The feature will use Cortana's natural-speaking technology to read out emails received in the Outlook app in what Microsoft calls a "natural" voice. 
When your hands may be busy doing other things, such as on your commute or while multitasking, you can ask Cortana to read your email messages out loud.
Conclusion
I hope today's post shows you can streamline your marketing campaigns and automate many tasks with the right tools. Or just inspires you to the endless possibilities of working smarter. 
The tools above can serve as the foundation for a solid digital marketing stack.
So, what are you waiting for? 60 digital marketing tools to start using today!
As a small business, you must understand the basics of digital marketing to maximise the return on your investment.
Using any marketing tool effectively can take some burdens off your shoulders.
Whether you are outsourcing your small business marketing to an agency or investing your own time as an owner. The key is to invest in growth, training and development of the business.
There is no need to spend a fortune on marketing software or services.
You can find many great resources online that are free or low-cost. If you're ever overwhelmed by the number of choices out there, contact us about your problem.
We would be happy to help you get started with some of our favourite (and most effective) best digital marketing tools.
Now I want to turn it over to you:
Which of the 60 different digital marketing tools from today's post will you try first or excite you the most?
Or let me know below the 1 tool you have found most helpful in your own digital marketing efforts that I've not listed?
As a digital marketing agency for small businesses in the UK, Dynamics Tech offers a wide range of services, each with a specific purpose. We specialise in combining services and focusing on what you need now and your growth aspirations. Book a free consultation to learn how to help your business grow!