Businesses are increasingly opting for marketing automation. Simply because it can open up many opportunities for the company to grow.
In fact, sales productivity increased by 14.5% after marketing automation, according to SalesFusion.
Marketing automation helps 63% of companies outperform their competitors.
What's not to love!
Am I right?
Automation is meant to optimise one's market processes, automating many processes to tackle everyday operations that would otherwise be repetitive.
Sounds great.
How can marketing automation help your small business? In today's blog post, I'll answer these questions and give you a list of marketing automation features you want your small business marketing automation software to include, plus some strategy tips if you're planning to incorporate an email marketing automation tool anytime soon.
Let's get into it.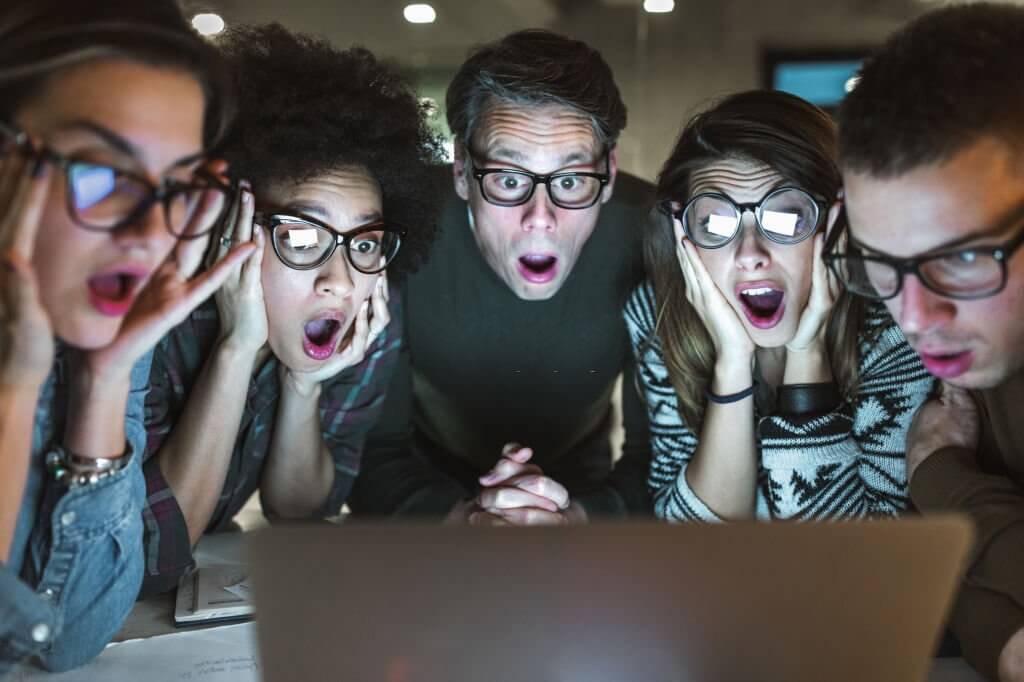 What is marketing automation?
Good question. Well, marketing automation uses software to automate marketing tasks.
Simply put, this can include anything from email marketing, chatbots, testing, and advertising to social media marketing campaigns.
Marketing automation can help save time and money by automating repetitive tasks, so that you can focus on other aspects of your business.
Automated marketing workflows send messages according to instructions. Drag and drop templates that can define the automation workflow, build from scratch, or change mid-campaign.
Marketing automation enhances lead generation, nurturing, scoring, and measuring marketing campaign return on investment (ROI). The size and complexity of an organisation increases the time- and cost-saving effects of automation.
Your small business will scale with a robust marketing automation platform.
How does marketing automation work?
Marketing automation automates marketing tasks that would otherwise need to be completed manually. This can include tasks such as sending out emails, creating social media posts, managing campaigns, or split-testing headline messages.
Basically, marketing automation works with contact database information, online behaviour signals, and data.
Data is collected from many sources: emails, website visits, app usage, social media, etc. Using this data, each customer can be seen from a 360-degree perspective.
By automating segmentation and targeting processes, marketing automation identifies the right audiences quickly and at scale. Adapt messaging automatically based on customer profiles. Personalise your email, mobile, and social media messages with just a few clicks.
Your customers will receive personalised experiences effectively and efficiently, regardless of your number of customers.
On the upside, automating these tasks can save your business time and money, while freeing your staff to focus on other business areas.
Unfortunately, it takes a lot of effort to get everything set up, as according to 61% of companies, marketing automation was difficult to implement.
Therefore, it might be better to outsource it and let professionals handle it. But it's possible to do things in stages and improve as you grow and need them.
However, your primary focus must be on your business goals. Saving money, making money. Marketing automation does both, because the average marketing overhead reduction for companies using automation is 12.2%.
What are the benefits of marketing automation?
Marketing automation is a tool that enables businesses to automate and streamline their marketing activities.
Businesses can use marketing automation to save time and resources while still achieving their marketing goals.
Using marketing automation can also help businesses better target their audiences and measure the results of their marketing campaigns.
Additionally, marketing automation can help businesses nurture leads and convert them into customers.
Marketing automation provides several benefits for businesses of all sizes. When used correctly, it can be an invaluable tool for driving sales and business growth.
What is marketing automation software?
Sending emails, posting to social media, and launching advertising campaigns by hand can be time-consuming. Additionally, these tasks are inefficient because they take a one-size-fits-all approach to outreach.
As a result, marketing ROI and customer engagement are reduced, resulting in lower marketing ROI.
These challenges can be resolved with marketing automation software.
Marketing effectiveness and ROI can be increased by automating these tasks across marketing channels and enabling a personalised approach to customers. In contrast, customers become happier and more satisfied.
What is email marketing automation?
Email marketing automation refers to sending triggered or timed promotional emails to subscribers. 
Online marketers can send customised messages to prospects and customers on a schedule or based on specific conditions
Subscriber-based actions automatically send relevant emails, such as welcome emails, to new subscribers.
Who can benefit from email marketing automation?
Email marketing automation can be used by anyone, including:
Large and small businesses that provide business-to-business (B2B) services
Large and small companies that sell directly to consumers (B2C)
Writers and bloggers
Editors and publishers
And more
Your subscribers will receive a personalised experience with automated workflows and triggers, regardless of your industry.
Your business will benefit from automated emails if you're interested in attracting leads, increasing foot traffic, increasing engagement, or boosting sales.
The open rate of automated emails is 70.5% higher, and the click-through rate is 152% higher than generic emails.
How does email marketing automation work?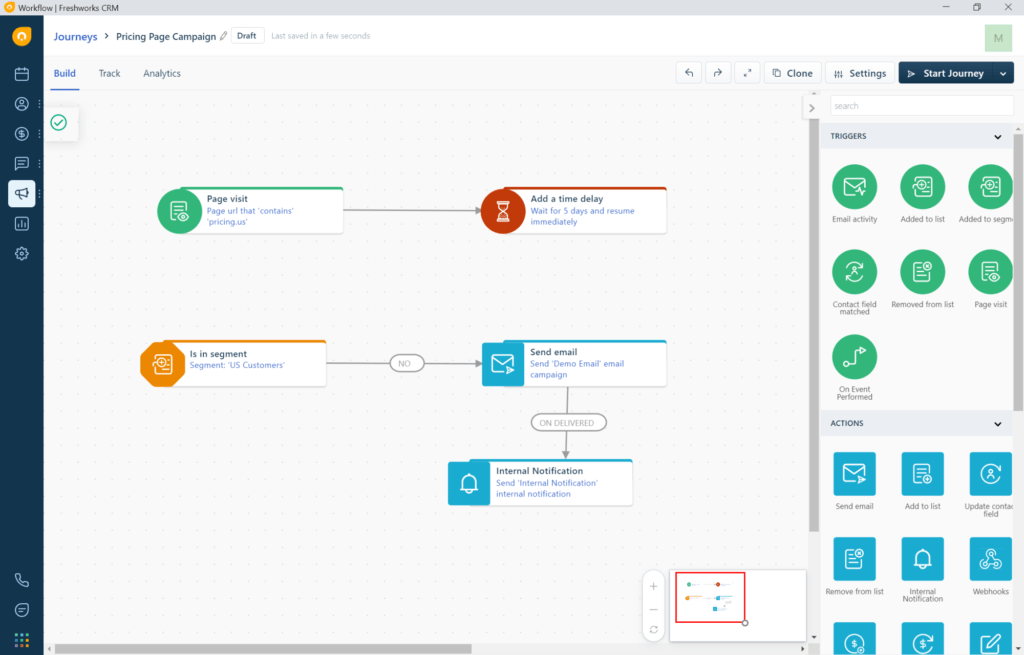 Automating email marketing makes it easier to implement a digital marketing strategy without having to manually perform each step.
You can save time and extract value from your customer data by providing data-driven insights via email.
With these insights, building and launching targeted, personalised email marketing campaigns is more straightforward.
Email marketing automation systems vary in functionality, but here are some ways they can help:
Generate more leads by tailoring email content to what your customers are looking for. Using lead scoring, sales teams can determine which leads are most likely to convert.
To maximise the effectiveness of each email campaign, identify the right target audience.
Using pre-built and customisable email templates, you can keep branding consistent across multi-channel campaigns.
Lead and data management via email helps you generate, nurture, and manage prospects' interests.
Get detailed metrics on what is and isn't working for your email campaigns, launch, adjust, and manage them automatically.
Configure automatic next steps based on schedule and customer behaviour. For example, follow-up emails and text messages can be sent when a customer takes action.
Enhance the reach and impact of your email marketing tool with online and in-person events.
Most marketing automation service providers allow you to schedule a series of emails.
A more advanced marketing automation provider will include additional features, such as
Branch Automation
Within automation, segmentation is possible
Automation triggered by various contact behaviours
A test of automation against each other
Automated processes that trigger other computerised processes
Coordination of internal processes through automation
Data is essential for effective automation touchpoints. Your customers feed you valuable information when they buy from your store, subscribe to your email list, or click on your ad.
Several services allow you to display data about your audience. You can improve your marketing efforts by learning where your customers or potential customers live and how they interact with your marketing materials.
Email service providers are some of the most basic and standard tools marketers use to gather data and automate processes. No matter what automation tool you choose, here are a few ways businesses can use them:
Select the types of messages you want to send to your customers.
Make decisions about which contacts to target with different messaging methods.
You must decide when your customers want to receive the message and for what.
Based on their data, marketing automation tools will engage your contacts at the right time to convert them into sales.
You'll want to look for these functionalities and features if you're considering marketing automation software for your small business:
Features You Will Want from Your Small Business Marketing Automation Software
1. Email Integration
One of the most significant components of marketing automation software is its email integration. A good email integration feature allows you to send emails to leads based on their specific behaviours or on the lead's stage in the sales process. The user can manually set this up or have it done automatically with the marketing software.
Effective marketing automation software should also allow you to track your email opens, clicks and bounces. This feature will ensure that you're not just throwing marketing money in the air.
2. Lead Nurturing
Another vital component of marketing automation software is its lead nurturing feature. This feature allows you to provide a helpful resource to your leads over time as they progress through the sales process. I will notify you and assign tasks when the time is right.
For example, suppose you're a software company. In that case, you may send a helpful "guide" to your leads related to your industry as they start to understand what you're offering. This also helps build a more personal relationship with your leads, which will help you progress with the sales process.
3. Pre-Built Journeys
Most marketing automation software comes with pre-built journeys that you can customise to suit your business process flow and integration. As you get used to the business software and see the benefits, you can take these pre-built journeys, create your own bespoke referral and loyalty programmes, and integrate them with other marketing tools and services, including phone calls, chatbots, live chat and postcards.
Examples of pre-built flow journeys can be:
Welcome series
Abandoned cart emails
Product recommendations
Best customer rewards
Order notifications
Product follow up
Customer re-engagement email
4. Lead Scoring
Lead scoring is another essential feature of marketing automation software. The lead scoring feature helps you rank your leads based on their behaviour in the sales process.
For example, if you have a sales process that follows a ladder of a value proposition, such as, "we will provide this great marketing automation solution to you in exchange for your commitment," you may want to assign a lead a specific score after each rung of the value proposition ladder. At each step in the process, we check to see who is still in the middle of the sales process. We also check to see who is ready to commit and who has already dropped off.
5. Lead Sharing
This feature is crucial for small businesses that can't afford a large sales team. The lead sharing feature allows you to share your leads with another company or team within your company.
For example, suppose you own a clothing company with a clothing design team. In that case, you may want to share your leads with the design team to see if they can convert them into customers. Or, if you are a small start-up company and can't follow up with all your leads, you can share that responsibility with another person or team with the lead-sharing feature.
6. Automatic Workflow
Finally, marketing automation software should offer an automatic workflow feature to build on the other features. This feature allows you to automate the steps in the sales process based on the user's trigger.
For example, suppose you want to automate the process of setting up an appointment with a lead ready to purchase a certain product or service. In that case, you can simply click a button and automate the process.
7. Integration with your existing systems
When you connect your marketing automation software to your favourite apps and web services, take your marketing further.
Integrate your software with services such as your payment platforms like Stripe.
Link to your accounting product like QuickBooks.
Increase traffic and drive sales with your eCommerce store, like Shopify.
Track online activity and gather form information from your website with specific content management system integration or work from a web developer.
Connect with your customer support platforms like Zendesk or Freshdesk.
Generate leads directly from Facebook or LinkedIn. Connect to customer survey tools like SurveyMonkey for Typeform.
If you offer subscription-based services or membership, you may use tools like Chargebee, Recurly or Patreon.
Centrally manage all your customer data within a customer relationship management (CRM) solution like Freshworks, Zendesk, ActiveCampaign, Salesforce, and Dynamics CRM.
Use your CRM and marketing automation to keep that data up to date and a single source of truth.
Use connector services like Zapier or Make, formally Integromat, to integrate with any, if not all, of your cloud solutions and services. This will enable you to build a proper marketing and sales machine for your small business.
ActiveCampaign integrates, for example, with over 870+ different apps.
Services like Freshworks CRM include marketing automation as a service out of the box.
How to use email automation to grow your business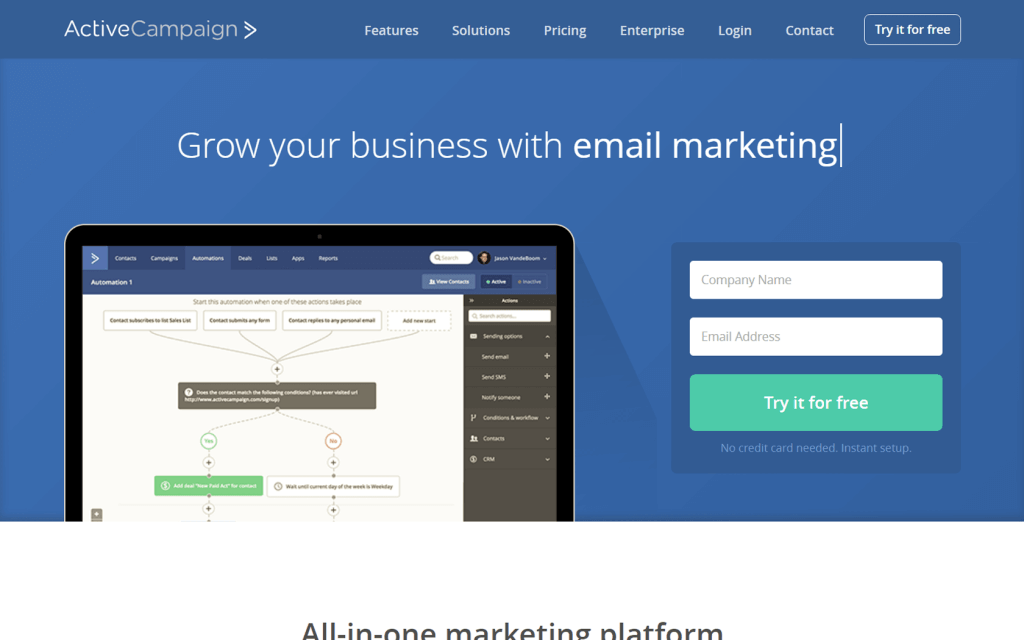 Email automation uses triggers to send related messages based on specific dates, events, or contact activities. Your contact's journey can determine triggers and triggered messages.
To get you started, here are a few examples:
New subscriber trigger
"Welcome!" Email
Most first-time website visitors will not be ready to make a purchase, even if the website is an e-commerce store. What should you do with the email when you capture a subscriber's interest with a "subscribe now" button?
The welcome email has become the equivalent of a thank you note after an interview. Sending them isn't mandatory, but people will notice when you don't:
74% expect a welcome email when they subscribe to a mailing list.
A welcome message is read and clicked four times more than a standard marketing email.
They generate as much as 320% more income per email than other promotional messages.
You can convert new leads into customers by following up with a warm welcome after you receive a new subscriber.
Abandoned cart: Trigger:
"Forgot something?" Email:
Following through takes more steps than adding an item to your cart. Approximately 70% of e-commerce shoppers abandon their carts due to high shipping costs, registration requirements, or security concerns.
You can recover lost sales by sending abandoned cart emails. You can reengage your shoppers by writing straightforward, timely emails once you know your audience.
A brand-new product or promotion is the trigger
You'll receive a special email!
Your messages can lose their power if you announce every new product release, upgrade, or promotion for every customer.
Using email automation, you can announce products to specific customers based on their interests, preventing you from falling into this trap.
An average of 150% more sales can be generated per email opening if you include personalised recommendations in your campaign.
Email marketing automation strategies: tips for designing them
Software for email marketing automation isn't an instant fix. Combined with a solid marketing automation strategy, it will be successful if it considers the entire marketing and sales CRM process.
Here are some tips to consider if you are planning to incorporate email marketing automation tools into your strategy:
By mapping out the stages, determine which actions will be most effective at each lead and prospect nurturing stage.
Decide on a lead scoring system: This allows you to prioritise sales resources and focus on the most promising opportunities.
Setting a lead qualification threshold and a lead scoring process prevent you from wasting time and money on unpromising leads.
Determine where the customer experience can be improved by mapping the customer journey.
Creating a content library will increase your options and allow you to personalise your content for your customers.
Implement marketing automation often in stages and tests, so you can optimise as you progress.
There is no such thing as a set marketing plan: It's always subject to change. Make improvements based on metrics as you progress to increase your chances of success.
Conclusion
Marketing automation is a handy tool for large and small businesses alike. However, if you're a small business, you definitely need this tool if you already use email marketing.
After all, you have a lot of tasks on hand, and having a market automation setup ensures you can focus on other tasks. At the same time, your marketing needs are met automatically!
Dynamics Tech offers small businesses the help they need to improve their sales, marketing efficiency and effectiveness. We partner with and use services like Freshworks, ActiveCampaign, Klaviyo, MailChimp, Nimble CRM, Capsule CRM, Dynamics CRM, and Zendesk, to name just a few used by many small business owners and marketers.
In addition, we use website development and customer service products like Freshdesk and Zendesk.
If you need a digital marketing agency for small businesses in the UK, reach out to us today!