Digital marketing is important for running a small business in today's world.
But with so many elements to consider – from website design to social media to email marketing – it's tough to know where to start.
Make sure your campaigns fit within your budget, beat your competition, and help you achieve your unique goals.
So, as a small business owner, you may wonder how to improve your digital marketing?
There are many factors to consider regarding improving small business digital marketing. Your unique goals and business model also play a role. You will find the right mix of digital online marketing campaigns that fit within your budget and get you started on the path to success.
Let us help you.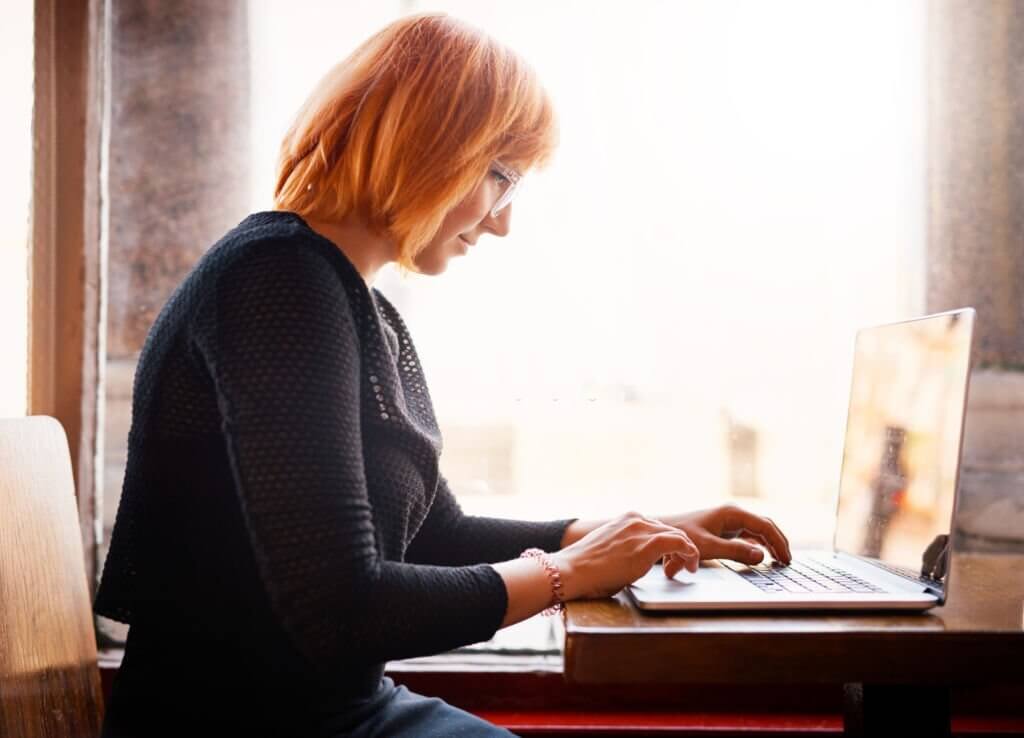 Improve your small business digital marketing with these six proven ideas
1. Create a strong website design
Your small business website can be the cornerstone of your digital marketing campaign. A strong website design will help you stand out and give your customers a positive first impression.
Easy navigation and appealing design are the hallmarks of a successful design.
Place a great deal of focus on information represented on the site. Keep it easy to understand and informative, so people will find it helpful and return to it.
Use high-quality visuals, ensure it works great on mobile, has a clear call to action, has a structured page layout and is sound… Meaning it's fast loading, has no errors, and can be crawled and indexed.
That's the tricky part.
A website audit is necessary if you're struggling with the above on your existing website. Contact us for a free audit.
Did you know:
88.5% of visitors leave a website if it takes too long to load
A poor user experience will drive 89% of visitors to a competitor's site
If your website is mobile-friendly, 74% of visitors will return
Improved user interface design can increase conversion rates by 200%
2. Master SEO strategy
Search engine optimisation (SEO) is a crucial part of digital marketing. This refers to making your website more visible on search engine results pages (SERPs). Your website content can be optimised for specific keywords your target customers are searching for.
SEO is a continuing process, so every week you modify or amend a site or blog, you need to keep SEO in mind.
Part of any SEO strategy is to find the keywords your customers might use to find your products or services.
You need to do keyword research and then keyword mapping as an overview.
What keywords does your website currently rank for? What are your competitors ranking for? Are the keywords appropriate for the page and user intent?
Behind every keyword search, there's an intent. 🤔
We know there are four primary keyword intents you need to consider.
Informational
Commercial
Navigational
Transactional
Things like "how to" keyword questions are informational searches. In this sense, the intent behind the search is to find an answer. So, you could add these kinds of keyword searches and content to your blog pages.
Commercial intent determines the likelihood of someone searching for a keyword becoming a customer or lead. The number of people who advertise on a specific keyword in Google Ads can evaluate commercial intent. Typically, your service pages would all be commercial intent keywords.
As opposed to informational keywords (looking for information) and transactional keywords (looking to buy), navigational keywords are long-tail keywords that search engines can determine are part of a search query that aims to navigate to a specific page. Branded keywords are also navigational keywords.
Finally, transactional keywords are linked to searchers intending to complete an action or purchase. These are your money pages.
With regards to keyword mapping, simply put, each target page on a website is assigned a Target Keyword.
Occasionally, a page may have more than one Target Keyword assigned. In most cases, a Target Page should be assigned to each.
Remember that keywords have different intent and competition, so choosing the right keywords to map and target can make or break down your SEO strategy.
Successful keyword mapping may also involve building content silos.
This means linking page content to form a bigger picture (covering topics and subjects in detail over multiple pages/posts) and passing ranking power to other competitive pages/keywords you want to rank for. This is a really effective SEO strategy.
The following are four types of SEO marketing services you can focus on.
On-page SEO
Off-page SEO
Technical SEO
Local SEO
What is on-page SEO?
On-page SEO is the process of optimising your website's content for Google's search algorithm. This includes improving your website's title tags (H1, H2, H3s), keyword density, meta descriptions, images, linking, and other elements that tell Google what your site is about.
On-page SEO helps search engines understand your website better. As your ranking rises, your website will receive more traffic, leading to more sales.
To improve your on-page SEO, start by ensuring that all of your website's content is relevant to your target keywords. Look at the competition and try to do a better job.
What is Off-page SEO?
Unlike on-page SEO, off-page SEO does not require your website to be updated or published with relevant content.
Many people have used "off-page SEO" and "link building" interchangeably. Still, off-page SEO can include many tactics, including: 
Building a brand
Building citations (directory listings
Creating content for digital marketing
Social media
By implementing these tactics, you can increase your site's authority, trust, and relevance.
What is Technical SEO?
The optimisation of the website and web server, which makes it easier for search engines to crawl and index the content, is known as technical SEO.
Getting your website indexed by search engines is the first step in building a search engine strategy.
In addition to Crawling, Indexing, Status Codes, Page Speed, Content, Site Structure, Mobile Usability, SSL, Structured Data, Migrations, and Rendering, we also manage Crawl, Indexing, Status Codes, Migrations, and Rendering.
Google's own Pagespeed Insights tool is an excellent resource for on-page and technical site issues. Or like marketing tools such as Screaming Frog.
Unless you're tech-savvy, you'll likely need an SEO consultant, content writer and web developer to fix the problem. Or someone who can fix all of it, like me. 😜 Click to connect with me.
What is local SEO?
Local SEO optimises your online presence to increase local traffic, visibility, and brand recognition.
Among the most common tasks are:
Google Business Profile optimisation (formally Google My Business)
Keyword research for local businesses
Content creation relevant to the local community
Local SEO can benefit any business serving a geographical area or physical location. 
An example local SEO search would include "near me" and a search term that provides for a location like "digital marketing Leicestershire".
Like all other SEO services, local SEO is its speciality. There are hundreds of strategies and SEO principles you can follow and implement to help your small business get found.
Try our free local SEO audit service to see how well or not your small business is doing. 
Did you know:
50% of search queries are four words or longer
Compared with other SEO tricks, content creation is the most fruitful (57 % of SEOs believe content creation drives the best search results). Keyword research (49%), social media marketing (39%), and link building (36%) are other effective SEO tactics.
Search engines generate 90% of organic traffic on the web
Comparing SEO with other digital marketing methods, 57% of B2B marketers think it generates the best leads
A local search resulted in 72% of consumers visiting a retailer within 5 miles of their home
3. Generate high-quality content
Now for the tricky part…
Your website should be packed with high-quality, keyword-rich content relevant to your products, services and location!
This will help you attract new customers and keep them coming back for more.
Here are a few tips:
Write RELEVANT titles that accurately reflect the topic of your page or article
Keep your paragraphs short
Create content silos
Use eye-catching images, infographics, and videos to help explain
Did you know:
Websites generate 67% more leads with active blogs, and websites generate 434% more indexed pages without active blogs
Research shows that 43% of blog readers skim through posts rather than reading them thoroughly. 
The use of videos on landing pages can increase conversions by 86%, according to a Wordstream report
73% of companies that spend between 10% and 70% of their total marketing budget on content marketing are very successful
More than half of successful content marketing strategies focused on improving content quality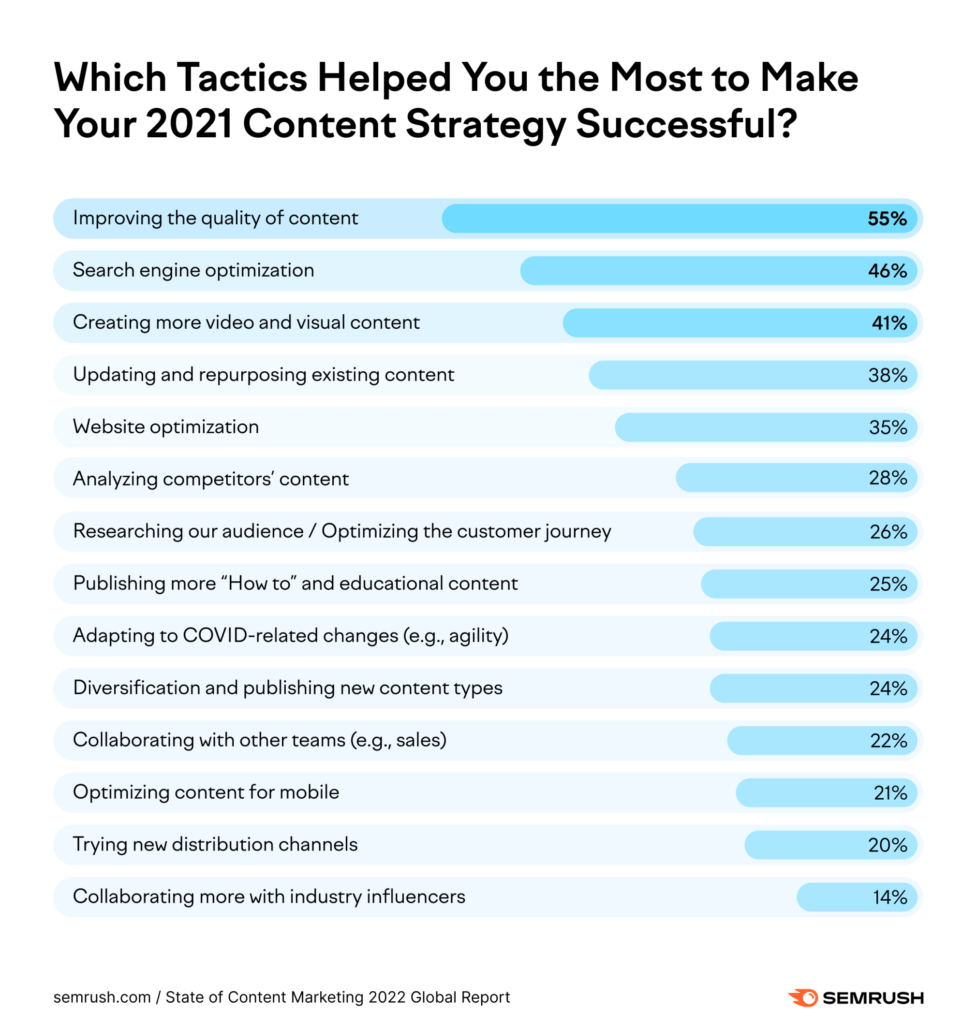 4. Take advantage of social media marketing
As a small business owner, you can use social media marketing to reach a larger audience for your business. Social media marketing involves creating and sharing content on social media platforms to achieve your digital marketing goals.
There are several advantages to using social media marketing for your small business.
First, social media platforms provide a large audience for you to reach. The number of social media users worldwide is 4.70 billion, and 227 million new users have come online within the last 12 months, so your target market probably uses social media.
Second, social media marketing allows you to connect with your target market in ways that traditional marketing methods cannot. You can build relationships with customers and potential customers through social media. This can lead to increased sales and brand loyalty.
Third, social media marketing is inexpensive compared to other digital marketing methods. You can create and share content on social media for free or at a minimal cost. This makes social media marketing an affordable option for small businesses.
Fourth, social media platforms offer various features to help you reach your digital marketing goals. For example, digital marketing channels like Facebook allow you to create a business page where you can share information about your business, products, and services. Twitter will enable you to share short updates with your followers. LinkedIn provides a platform for networking and connecting with other professionals. Instagram allows you to create visual storytelling with photos and short videos. TikTok is hugely popular for video storytelling, product promotions and brand awareness.
Finally, social media marketing effectively builds brand awareness and creates buzz about your small business. Social media marketing can help your small business reach a wider audience, connect with customers and potential customers, and establish a strong online presence.
If you are ready to take advantage of social media marketing for your small business, there are a few things you will have to do to get started. First, you will have to decide which social media platform or platforms you want to use. Second, you need to create a social media marketing plan. And third, you need to implement your social media marketing plan.
Social media is a highly effective digital marketing tool when you use it the right way. People looking for products or services will search for them in various places. That's where you will come in, and even if you have a website, you still need a social media presence.
People look at Facebook, Twitter, Instagram, and now TikTok and other sites daily and look through your posts and profiles. It is also a great way to interact with consumers and form positive relationships.
Did you know:
Over 50 million small businesses use Facebook Pages to connect with their customers. Facebook advertising is paid for by 4 million of those businesses.
Adults spend 95 minutes per day on social media across all platforms
It's estimated that 90% of Instagram users follow a business on the platform
According to 27% of respondents, creating engaging content is the biggest challenge marketers face on social media.

There are

21.2%

more interactions with videos than with images and 18.6% more interactions with carousels

Influencer marketing earns businesses $18 (£15.90) for every dollar invested
5. Grow your email list
Email marketing is one of small businesses' most cost-effective digital marketing strategies. By building a quality email list, companies can deliver targeted messages, conduct surveys, and drive conversions through marketing emails.
In the beginning, growing your email list may seem like a daunting task, especially if you only have a few subscribers. Any small business can succeed if they follow a few simple techniques. I will provide you with nine tips that will help you increase your subscribers and improve the quality of your email marketing campaigns.
Invest in your content assets
By regularly publishing helpful content that generates backlinks and shares, your small business can become an expert in its industry. This will enable it to establish itself as a business that can be trusted. You can convert these consumers into subscribers from your email list.
However, there is a need to create the right content to succeed. People provide their email addresses because they will feel they are receiving something valuable in return. To produce quality content, it is crucial that you know your target audience and understands their problems. When your content connects emotionally and practically with your readers, they're more likely to sign up for your email list, and you'll see more sign-ups. Every engaging content should include a clear call-to-action (CTA) or an email sign-up form.
There should be a sign-up form on your website and blog post
If you want people to know that you have an email list, place opt-in forms on your homepage, about page, and other high-traffic pages, such as popular blog posts. By embedding the forms in the headers and sidebars of your website, you can increase their visibility.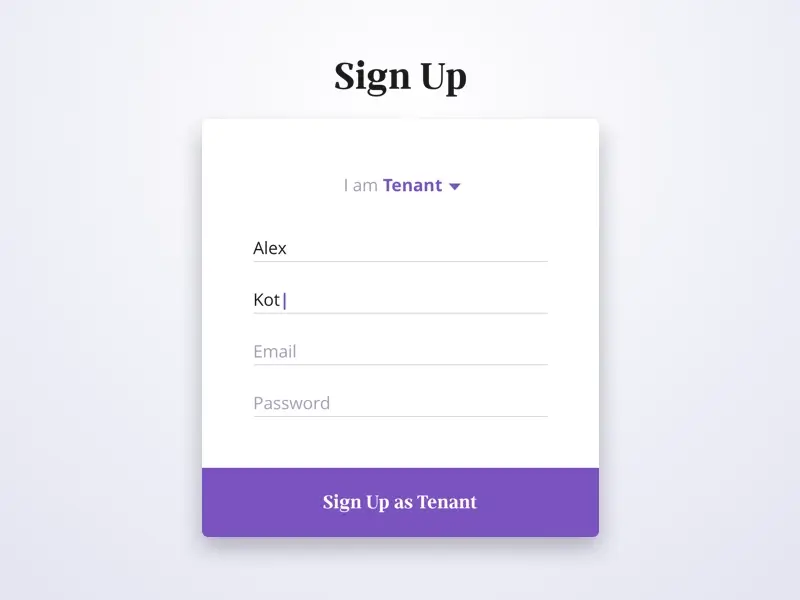 CTAs should emphasise the benefits of the product or service.
The key to increasing your conversions is to ensure that people understand how joining your email list will benefit them and how signing up for it will benefit them. As part of the CTA text, it is crucial to emphasise the benefits of taking action. When you use generic phrases, such as "sign up" or "subscribe", you will not motivate people to take action. Ensure the language you use encourages action and reminds your readers of the rewards they can expect if they engage. It could be something like "Get your discount now" or "Get weekly product updates now.".
Consider using lead magnets or content upgrades.
Lead magnets are any content offered in exchange for an email address as a lead magnet or content upgrade. These methods allow many businesses to capture their customers' email addresses. You can create free product guides, how-to guides, industry surveys, case studies, and educational infographics to entice people to subscribe to your email list by creating free product guides, how-to guides, etc.
Forms can be used as popups
A popup form can appear when a user spends a certain amount of time on a page, scrolls down a certain percentage, or leaves a web page after spending a certain amount of time on the page. They encourage people to subscribe to your emails on your website and are very easy to set up. Even though some people think they are annoying, they are practical and have a high conversion rate. Small business owners who use Mailchimp have reported a growth of 50.8 per cent in their email lists when adding popup forms to their websites.
A very effective way to make your popups less intrusive is to schedule them to appear after a certain period. To make your popup appear around half the time visitors spend on a particular page; you need to check your website's analytics.
Create landing pages
Suppose a consumer clicks on an ad, a search engine result page, or another digital location. In that case, they will be taken to a landing page. A landing page encourages visitors to give their email addresses in exchange for something of value, such as exclusive content or a discount. This is done to build an email list. A landing page with too many offers will lower conversion rates if you promote too many requests.
In the end, once you have created a landing page, you can link to it from web pages, blog posts, advertisements, and social media posts. The most effective way to make a landing page more compelling is to use one prominent call-to-action, include testimonials, emphasise the benefits of signing up clearly, and keep the copy concise.
Make use of your social media platforms.
Social media is one of the most effective ways to direct visitors to your email sign-up form to capture their email addresses. The following tips can help increase the number of email subscriptions you receive.
Ensure you include a link to your email subscription landing page in your business profile.
To promote limited-time special offers, you should link to a landing page.
You should use Facebook lead ads, where people can sign up without leaving.
Regularly promoting your blog is one of the most effective things you can do.
Checkboxes during checkout should include an opt-in option
Customers who enter their email addresses during checkout already provide personal information about themselves. This is a terrific opportunity to promote your email content to them. You must add a checkbox to your website, so customers can quickly subscribe to your email list. You need to explain the benefits of subscribing next to the checkbox.
Build your email list offline with offline strategies
You must use offline and online lead generation channels to promote your email list. Here are a few ideas that you might find helpful:
Ensure you include a landing page link to your business cards.
A flyer explaining the benefits of signing up to your email list can be handed out at the checkout counter to encourage customers to subscribe.
Regarding promoting your email list, trade shows are a very effective method.
Direct mail is a cost-effective way to promote your email list.
An excellent way to nurture leads is to develop relationships with them through email marketing. This is one of the most effective ways to nurture leads. You must invest time, creativity, and patience to build an effective email list. A small business can't generate thousands of subscribers within a short time.
We have listed nine strategies below that you can use to grow your email list and get more subscribers. There is no doubt that they will provide you with a solid foundation for attracting more potential customers to your business, nurturing brand loyalty, and maximising sales in the months and years to come.
Did you know:
There are 33% of marketers who send emails weekly, and 26% who send emails every month

Small businesses use email marketing to reach customers

64%

of the time

In 2021,

64%

of B2B marketers said their email marketing strategy was effective at meeting their business goals

Compared to manual emails, automated emails get a 152% higher click-through rate and a 70.5% higher open rate
6. Collect customer reviews
You know that reviews can make or break your business as a small business owner. A few unhappy reviews can hurt your bottom line. Still, a strong stream of positive customer feedback can help propel your small business to new heights.
You also know that gathering customer reviews isn't always easy. You can't just ask every customer for a review, as that can come across as pushy or insincere. And, even if you collect a few reviews, how can you be sure they're actually able to help your business?
Here are a few tips to help you collect customer reviews that will improve your small business's digital marketing:
Make it easy for customers to leave reviews.
The easier it is for customers to leave reviews, the more likely they will actually do it. Add links to the review pages on your website, email signature, and social media profiles. You can even include QR codes that customers can scan directly to your review pages.
Tools and services, like our Reputation Manager, provide small businesses with a simple way to obtain reviews. Not only does it help collect reviews for sites like Google or Facebook, but your small business can also collect reviews for other sites like TripAdvisor or Yell.
Personalise your requests for reviews
Don't just send out generic requests for reviews. Take the time to personalise each request and let customers know why their feedback is essential to you. This will show that you value their opinion and make it more likely that they'll take the time to leave a review.
Offer an incentive to leave a review.
Everyone loves a bit of extra incentive, so offer customers something in return for taking the time to leave a review. This could be a discount on their next purchase, a free product, or simply entering them into a drawing to win a prize. Please remember that services like Google do not advocate incentives for reviews, which would violate Google's Policy.
Respond to all reviews, good and bad
When you get a review, take the time to respond. Thank customers for their positive feedback and address any concerns raised in negative reviews. By responding to all reviews, you'll show potential customers that you're responsive and care about your customers' experience.
Reviews on Google provide helpful information and help your small business stand out. You can see reviews beside your Business Profile on Maps and in Search.
Promote your positive reviews
Make sure potential customers see your positive customer reviews by promoting them on your website, social media profiles, and other digital marketing materials. A few well-placed reviews can help boost your business's credibility and attract new customers.
Customer reviews are essential in small business digital marketing, so don't neglect them. Use these tips to collect customer feedback that will help improve your business's online presence.
Did you know:
80% of customers are likely to return if they receive a response to their review
50-57% of customers won't repurchase your product or service if you don't respond to their social media reviews
82% of companies agree that retention is better than acquisition

It is estimated that

95%

of customers read reviews before making a purchase

Businesses with more than nine current reviews earn

52%

more revenue than the average. The percentage increases to 108% if a business has more than 25 current reviews

Online customer service reviews influence

88%

of consumers' buying
In a nutshell
With some research and planning, you can find a combination of digital marketing tactics that will work for your small business budget.
Look at what you have to work with and what you can afford. Then marry that with your goals, and you can start maximising your digital marketing efforts and getting the maximum return on investment possible.
Make sure you have a process for collecting customer reviews. Google services are free, which can considerably impact your digital marketing and your business.
If you're not already using email marketing, you're missing out. Look into getting started with email marketing and building your email list.
Creating content is challenging, and many small businesses shy away from doing it. But if you're not adding fresh content to your website, then you're not building your authority in your niche, and over time this will bite you. The sooner you get started and commit to content marketing, the better.
Finally, your website and SEO. If your website isn't being found, you are merely putting money into your competitors' pockets. It's pretty simple.
Use the above key factors to help you start or focus on digital marketing to grow your small business.
Suppose you need any help or want to chat about your business. In that case, Dynamics Tech is a digital marketing agency in Leicester. We offer technology, support, training and consultancy services for small businesses.
Get in touch with us.