As a small business owner, you may wonder whether traditional or modern marketing solutions are right for your business.
The answer to this question depends on several factors, including your industry, target market, and budget.
For example, you can use traditional methods like print ads or commercial spots, flyers, social media and online ads to connect with your target audience.
These different tactics don't have to be used alone. Print ads and commercials can reach other consumers, while social media can grow your brand's online following.
In this blog post, we'll look at the pros and cons of traditional and modern marketing solutions so that you can make an informed decision about which marketing is right for your business.
And suppose you are a neophyte marketer or business owner. In that case, this blog post will help you learn the value of using traditional and digital marketing strategies in your marketing plan.
Let's dive in!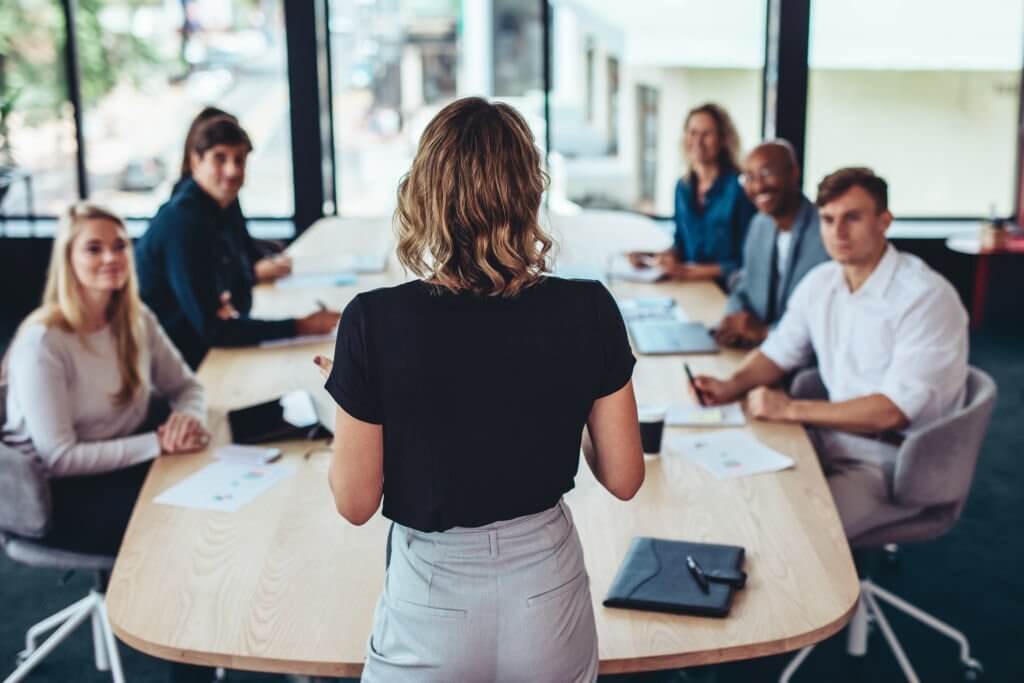 Traditional vs Modern Marketing Solutions
Traditional Marketing
Traditional marketing solutions include print advertising (newspapers, magazines, direct mail), television and radio advertising, directory pages like Yellow Pages, and trade shows or networking events.
With traditional marketing, there is still a way to connect with consumers in 2022 and beyond for all sizes of businesses. You can mail promotional products to your target audience or speak directly to your audience at an event. I don't see that changing, but it's a slower process and can be costly, but you can see the whiteness of your audience's eyes.
Traditionally, marketing plays a significant role in connecting with local audiences personally.
Customer relationships are more important than ever in today's world of consumerism. For this reason, customers choose businesses that care about their well-being.
Local television (T.V.) commercials, billboards, and newspapers are the most traditional promotional methods companies use to reach their local community. Contrary to corporate marketing, traditional marketing is more organic and less corporate.
It gives a company more credibility when customers see something physical rather than just an online advertisement.
Digital media can help you reach people quickly. Still, people don't trust the company as reputable or well-established. 
Online digital advertisements are less trustworthy than print media and printed material.
Ads that you see on the radio, T.V., in magazines, or on other commercial platforms imply that a company has many financial resources.
Doing so creates the impression that the company is stable and prosperous.
Despite the evolution of traditional marketing over the past few decades, the fundamental aspects remain the same.
Let's look at some pros and cons of traditional marketing solutions:
Pros of Traditional Marketing:
Traditional marketing solutions are typically more expensive than modern marketing solutions. Within reason, when we talk about typical advertising methods like T.V. vs online adverts.
They can reach a large audience in a short amount of time. Again, a 30-second T.V. advert can be seen in millions or even billions during events like the World Cup.
They are suited for businesses with a local or global target market. Flyers and mail, for example, can target specific neighbourhood areas. The use of T.V. or radio gives national, regional, or international reach.
They create urgency and prompt customers to make purchasing decisions quickly.
It's ideal for businesses that sell products or services that need immediate customer attention, like new products or services or brand awareness.
Cons of Traditional Marketing:
Traditional marketing solutions often have low engagement rates. Only a tiny percentage of people who see or hear your ad will take action because of it.
They are less effective at building long-term customer relationships than modern marketing solutions.
It can be challenging to track and measure results.
There is no possibility of customising besides using direct mail. Take T.V. adverts, for example. How often have you seen an advert irrelevant to your life? Far too many, I'm sure.
There is a decline in interest in traditional marketing methods. This can be seen where businesses now spend their advertising revenue.
In traditional marketing, promotional methods cannot be updated once executed. There's very little control over the timing.
Modern Marketing
Modern Marketing, or should we say digital marketing, allows you to connect with consumers in the digital world.
Any online marketing campaign is considered digital marketing.
You can create a website and connect with consumers through it. You can also use social media platforms to connect with consumers via the internet.
Advantages of Digital Marketing
Modern marketing solutions include methods such as content marketing, email marketing, social media marketing, search engine optimisation (SEO) and paid advertising.
Let's look at the pros and cons of modern marketing solutions:
Pros of Modern Marketing:
The power of digital marketing can be leveraged by any business, regardless of its size.
Your audience can be converted into customers or clients if you connect with them.
Modern marketing solutions typically have higher engagement rates than traditional marketing solutions because they allow you to build relationships with your target market over time and be highly targeted at your audience.
They are well suited for businesses with an international or online target market.
They tend to build long-term customer relationships more effectively than traditional marketing solutions.
They are easier to track and measure results thanks to advances in technology.
You don't have to be a marketing guru expert to launch a campaign or do daily marketing for your small business. Anyone can get started, and it doesn't even have to cost a penny.
There are also a ton of online resources, steps by steps, videos and courses to help you build a complete digital marketing machine.
Cons and Modern Marketing:
Creating marketing materials and optimising internet advertising campaigns takes a lot of time. To be successful with digital marketing, you must have a strong online presence.
Digital marketing allows you to connect with consumers more intimately. For example, you can use social media to converse with your consumers. This will enable you to learn more about your consumers and experience a more personal connection with them.
This type of marketing also gives you a more global reach. Your entire follower base will see a tweet about your product, not just the magazine readers. This gives consumers a more global reach that you can't achieve with traditional marketing.
Digital marketing also allows you to grow your brand's online following. For example, you can set up a website dedicated to your product. You can then use social media to promote your products and business.
Even though internet marketing can reach a worldwide audience, it is also subject to global competition. Consumers receive many messages online, and standing out can be challenging.
Your audience can access complaints and opinions about your company through social media and online reviews. Customer service online can be challenging, and negative feedback or a lack of response can damage your brand's reputation.
To hold customers' attention online, you must be creative and engaging.
How do the numbers compare between modern digital and traditional marketing?
In the period August 2021 and February 2022, U.S. marketers increased their spending on traditional media (excluding the internet) and their investments in digital media after a decline in the same period due to coronavirus outbreaks.
Since early 2015, digital marketing and advertising have gained a noticeable advantage over traditional channels. Traditional advertising budgets have generally been reduced, while digital marketing expenses have grown. Compared to the previous year, CMOs in the U.S. reported a 16.2 per cent increase in digital spending in February 2022.
Digital marketing spending for for-profit companies is predicted to increase by 28.29 per cent for the following 12 months, according to a survey conducted among marketing leaders in the United Kingdom (U.K.) in January 2022.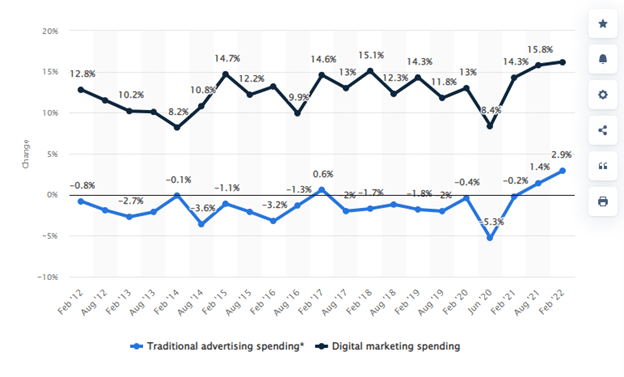 The top ten digital marketing statistics in the U.K.
Between 2020 and 2021, digital marketing spending in the U.K. increased by 9.6%.
Social media expenditures are expected to increase by 19.4% among marketers.
57% of video marketers use live videos in the U.K.
Paid search advertising in the U.K. cost advertisers £7.1 billion in 2019. 
Revenue from social media ads is expected to increase by 6.3% in 2020. 
54% of email in UK was opened on an Apple Device
A click-through rate of 1.6% was the average in the U.K
In 2018, 5.77 per cent of U.K. emails were unsubscribed-to-open.
Every day, 99% of email users check their inboxes.
Digital marketing accounted for 72% of marketing spending in the U.K.
How do I choose the right marketing strategy for my business?
Before investing in marketing, you should choose a marketing strategy that fits the needs of your business. What is the best marketing method for your business?
Consider these factors:
Digital marketing is more affordable than traditional marketing, but it depends on what you're trying to accomplish. It may be more expensive, but traditional marketing is more effective if you want to reach a large audience.
Digital marketing can reach a broad audience. In contrast, traditional marketing can reach a specific target market more effectively.
Branding and awareness are the primary purposes of traditional marketing. At the same time, sales and leads are the primary purposes of digital marketing.
Which Should I Choose? Once you've considered these factors, the best way to decide is to test both digital and traditional marketing and see which works best. We at Dynamics Tech are here to help you find the right digital marketing channels for your business if you're concerned.
Modern Digital Marketing vs Traditional Marketing: Let's work together
When deciding between traditional and digital marketing, there is no one-size-fits-all solution. Depending on your business and its specific needs, it all depends on factors such as your industry, target market, and budget.
Suppose you're not sure which type of marketing is right for your business. In that case, we recommend talking to a professional who can offer guidance based on your situation.
As you can see, traditional and modern marketing can be used together to achieve your marketing goals. These two can help you reach different audiences and grow your brand's online followers.
Both types of marketing have their place in your overall marketing plan. Digital marketing can be used to target a broader audience. You can use both traditional and digital marketing to reach your target audience.
You should, however, keep these things in mind when making your decision:
The cost of traditional marketing methods, such as print ads and T.V. commercials, can be high
With digital marketing, you can reach more of your target audience more quickly, since it's more targeted and efficient
Traditional marketing takes time to produce results, while digital marketing produces results almost immediately
What is the best option for your small company? This is a decision that can only be made by you. We aim to help you make an informed decision by sharing this article with you.
Dynamics Tech is the agency to call if you are looking for a reliable, small, business-specific digital marketing agency in Leicestershire! We're small, and we help small-sized businesses improve their business efficiency, sales and marketing.
Contact us today!